Triple Decker Mississippi Mud Pie
If getting dirty involves eating this mud pie, consider us filthy.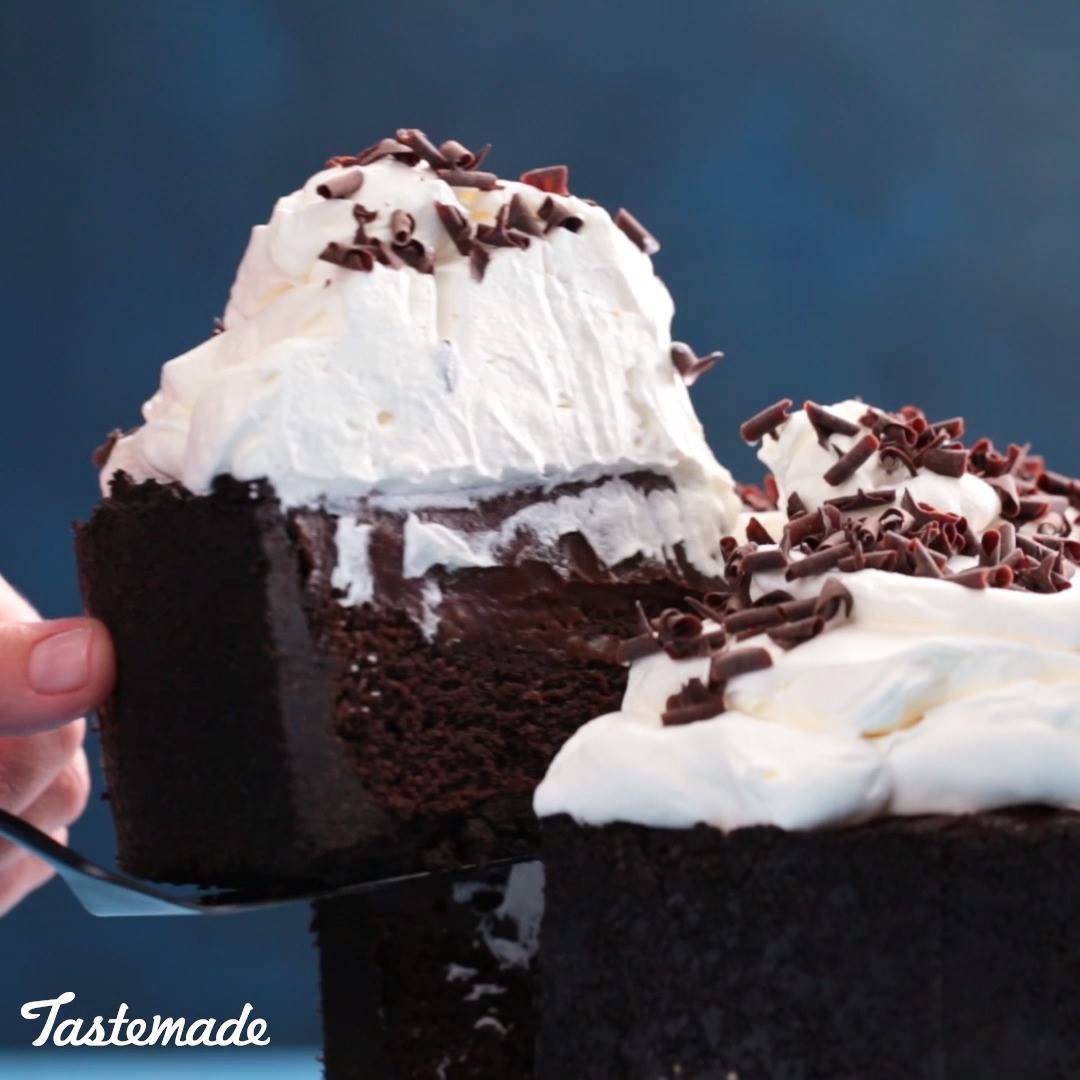 Ingredients
For the crust:
60 chocolate wafers
4 tablespoons butter, melted
1 teaspoon salt
For the cake layer:
¼ cup coffee
1 cup dark brown sugar
13 ounces dark chocolate, approximately 70% cacao, chopped into pieces
1 cup butter, cubed
5 large eggs, separated
1 teaspoon vanilla extract
For the chocolate pudding layer:
¾ cup sugar
½ cup dark cocoa powder
¼ cup cornstarch
½ teaspoon salt
4 large egg yolks
2½ cups whole milk
3 tablespoons butter
3 ounces dark chocolate, approximately 70% cacao, chopped into pieces
2 teaspoons vanilla extract
2 cups whipped cream, for topping
1 cup chocolate shavings, for topping
Instructions
Preheat the oven to 350 degrees. Line a 10-inch springform pan with parchment paper. Line the edges with aluminum foil, creating a taller cake pan, approximately 8 inches tall.
Make the crust:
In the bowl of a food processor, pulse chocolate wafers until they resemble course sand. Add butter and salt and pulse to combine. Press into the prepared pan all the way up to nearly the top of the foil and set in the freezer for 15 minutes. Bake for 10 minutes and allow to cool for up to 2 hours while you make the cake.
Make the cake:
In a small saucepan, combine coffee and brown sugar and heat on medium-low until melted. In a medium bowl, combine chocolate and butter. Pour sugar mixture over chocolate and stir until smooth and completely melted. Add egg yolks and vanilla and allow to cool completely.
In another bowl, whisk egg whites until stiff, and slowly incorporate into melted chocolate mixture. Carefully pour into prepared and cooled cookie crust, and bake until cake is barely set, approximately 30 to 35 minutes. Remove from oven and allow cake to cool completely. Set in refrigerator to cool for up to 3 hours.
Make the chocolate pudding:
In a medium saucepan, combine sugar, cocoa powder, cornstarch and salt. Add egg yolks and whisk until combined. Slowly add in whole milk and bring mixture to a boil, stirring constantly to prevent burning. Remove from heat and transfer to a large bowl. Stir in butter, dark chocolate and vanilla and stir to combine. Allow to cool and set in the refrigerator for up to 3 hours.
Assemble the pie:
Remove cake from fridge and top with chocolate pudding. Top with whipped cream and chocolate shavings. Serve immediately. Pie will keep up to 4 days covered in the refrigerator.
Watch the recipe video here: