Berry Crepe Cake
This crepe cake made with fresh, locally-sourced berries from Walmart is the ultimate dessert!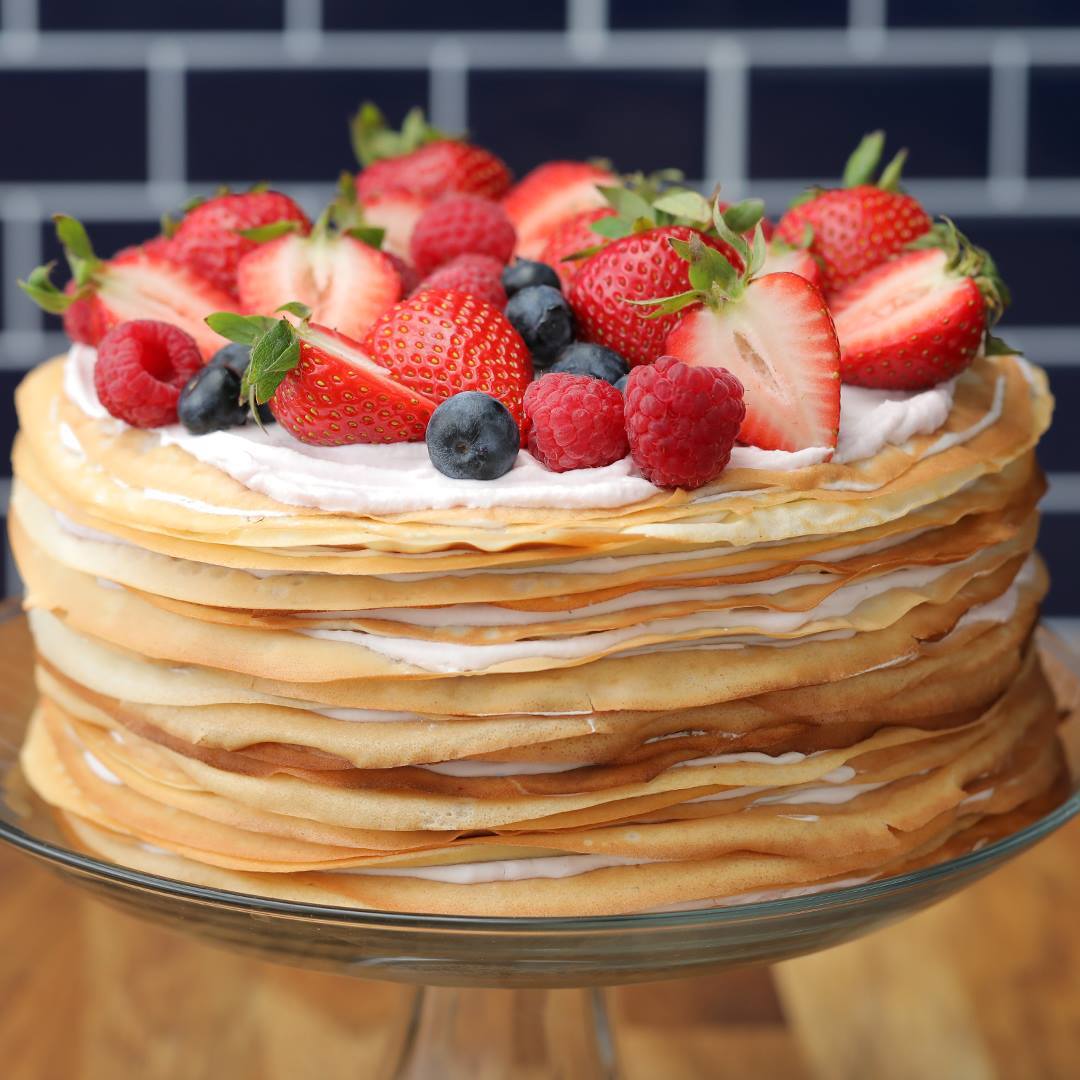 Ingredients
Cr​êp​es
21⁄2 cups flour
3⁄4 cup sugar
3⁄4 teaspoon salt
5 eggs
11⁄4 cup milk
13⁄4 cup water
5 tablespoons butter, melted
Berry Syrup
4 cups mixed berries 3⁄4 cup sugar
1 cup water
1⁄4 cup lemon juice Zest of 1 lemon
Whipped Cream
3 cups heavy cream 3 tablespoons sugar
Instructions
First make the berry syrup by placing all of the ingredients except water into a saucepan and roughly smashing them together with a potato masher. Then add water and bring to a boil. Simmer for 10 minutes.
Strain syrup into a bowl and place in the refrigerator until completely chilled.
While syrup cools, make cr​ê​pes by first whisking together all of the dry ingredients in a bowl.
In a blender, blend up all the wet ingredients until mixed. Add the dry ingredients into the blender 1⁄3 of the batch at a time, blending in between until mix is incorporated and completely smooth.
Heat an 8-inch non-stick pan on medium and then lightly spray with oil. Pour 1⁄4 cup of the cr​êp​e batter into the pan and quickly swirl pan so that the batter covers the bottom evenly.
Cook for one or two minutes until the edges of the cr​ê​pe brown slightly and the middle of the cr​êp​e is set. Using a spatula, lift the corner of the cr​ê​pe and carefully flip the cr​ê​pe over. Cook for 30 seconds, then remove the cr​ê​pe from the pan and set aside.
7. Repeat with all of the mix until you have 20–25 round cr​ê​pes. Set aside to cool.
Next, add 3⁄4 cup of cooled berry syrup and 3 cups of whipped cream to a very large bowl. Using a blender, whip until soft peaks are formed. Add sugar and continue to whip until there are stiff peaks.
Fold in 1⁄4 cup of the berry syrup, incorporating it as much or as little as you like.
To build the cake place a cr​ê​pe on a cake stand and add 3–4 tablespoons of the berry whipped cream, spreading evenly to cover the cr​ê​pe. Then, place another one on top and cover again with berry whipped cream. Repeat layers with the remaining cr​ê​pes.
Top with a last layer of whipped cream, then top with fresh berries and a drizzle of the extra berry syrup.
Enjoy!
Watch the recipe video here:
Berry Crepe CakeThis crepe cake made with fresh, locally-sourced berries from Walmart is the ultimate dessert! https://bzfd.it/2LQ4KFF

Posted by Tasty on Tuesday, June 5, 2018