S'mores Cups
S'mores Cups recipe.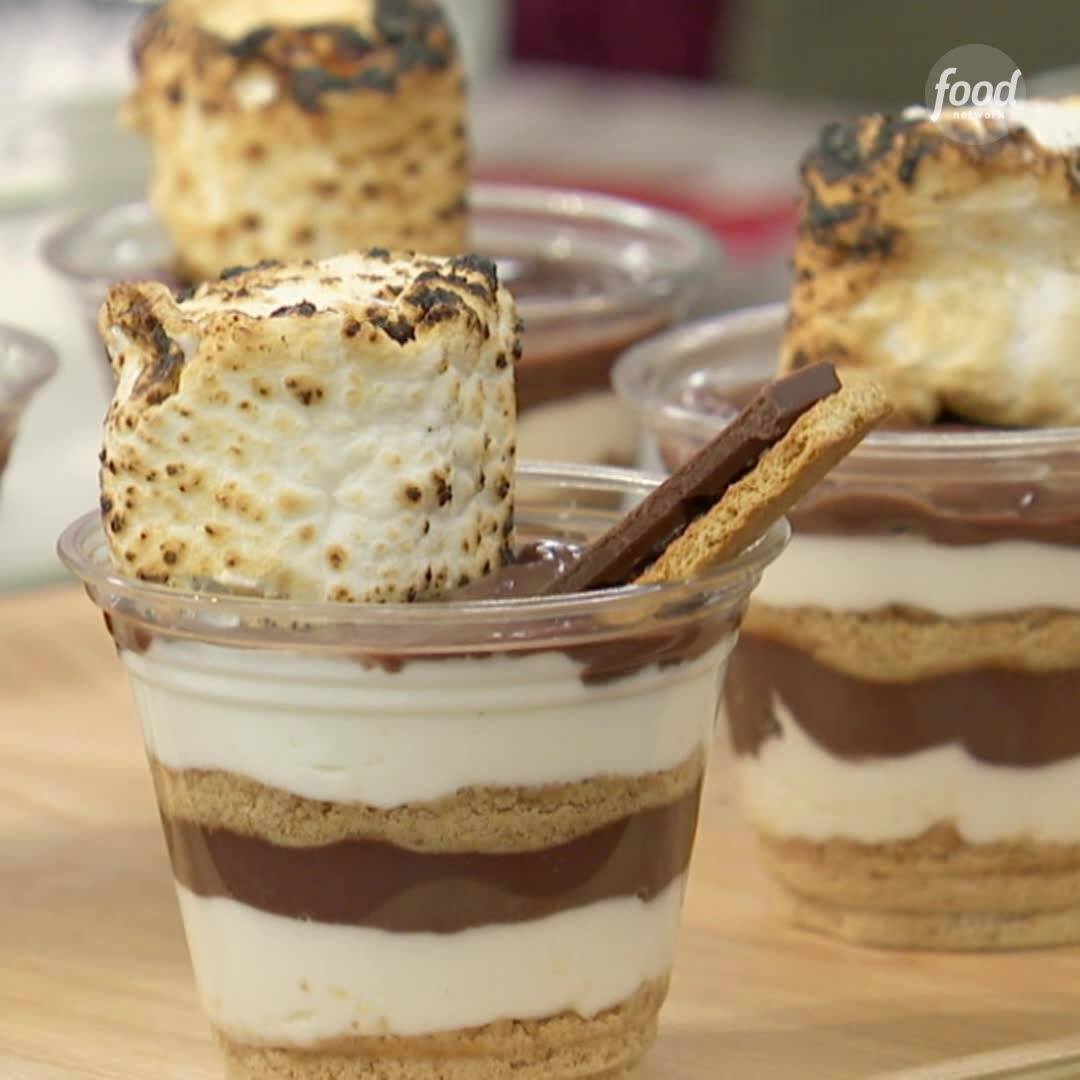 Ingredients
¾ cup marshmallow creme
½ cup plus 2 tablespoons chilled heavy cream
1 cup crushed graham crackers, plus 1 graham cracker sheet, broken into rectangles, for garnish
1½ cups chocolate pudding
4 jumbo marshmallows
4 rectangles from a 1.55-ounce chocolate bar
Instructions
Special equipment: four 9-ounce plastic tumbler cups; 4 skewers
Put the marshmallow creme and 2 tablespoons of the heavy cream in a large chilled bowl. Use a hand mixer to beat until the creme is loosened, smooth and shiny. Add the remaining ½ cup heavy cream to the bowl and whip to medium peaks, starting on low and then changing to medium speed.
Put 2 tablespoons of crushed graham crackers in the bottom of each of four 9-ounce plastic tumbler cups. Top with 3 tablespoons marshmallow whipped cream, then 3 tablespoons chocolate pudding. Repeat so you have another layer of each ingredient. Refrigerate until ready to serve.
When ready to serve, place the marshmallows onto skewers. Toast the marshmallows over a hot grill (or on the stove top).
Place a toasted marshmallow on top of each s'mores cup. Garnish each with a piece of chocolate bar and graham cracker.
Watch the recipe video here:
Take your love for s'mores and turn it into PUDDING CUPS ?Get more recipes on #TheKitchen > Saturdays at 11a|10c

Posted by Food Network on Sunday, July 22, 2018