Chocolate Lava Cookies
These chewy chocolate lava cookies hide an oh-so-rich, ooey-gooey chocolate center.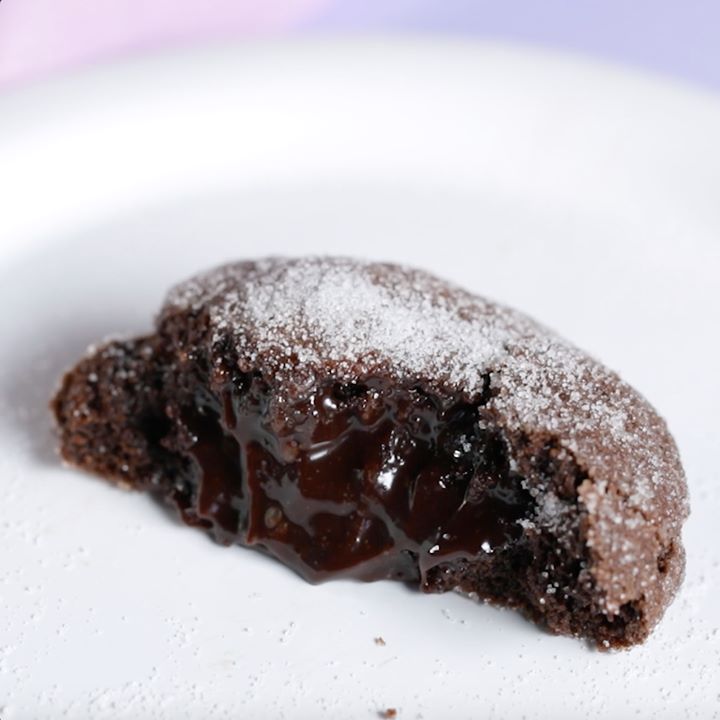 Ingredients
2 cups all-purpose flour
¾ cup cocoa powder
1 teaspoon salt
1 teaspoon baking soda
1 cup vegetable shortening
½ cup sugar, plus ½ cup for dusting
½ cup brown sugar
2 large eggs
1 teaspoon vanilla
1 (12-ounce jar) hot fudge sauce
Instructions
Preheat oven to 400 degrees. Line a baking sheet with a silicone baking mat.
In a medium bowl, combine flour, cocoa powder, salt and baking soda. Set aside.
In a large bowl, cream together shortening and sugars with a hand-held mixer. Add eggs one at a time, and stir in vanilla. Add dry ingredients and mix until combined.
Scoop approximately ¼ cup of dough in your hand and flatten. Pour approximately ½ teaspoon of hot fudge sauce in the center and wrap dough around it to form a ball. Repeat steps until all dough is used.
Toss dough balls in sugar, and bake for 6 to 8 minutes until set. Cool cookies on a rack and serve immediately. Beware of hot chocolate lava!
Watch the recipe video here:
These aren't your average chocolate cookies – bite into a mouthful of warm, gooey chocolate.Full Recipe: taste.md/2wvmgWD

Posted by Tastemade on Sunday, February 4, 2018