Sloppy Cheesesteak Sliders
Sloppy Cheesesteak Sliders recipe.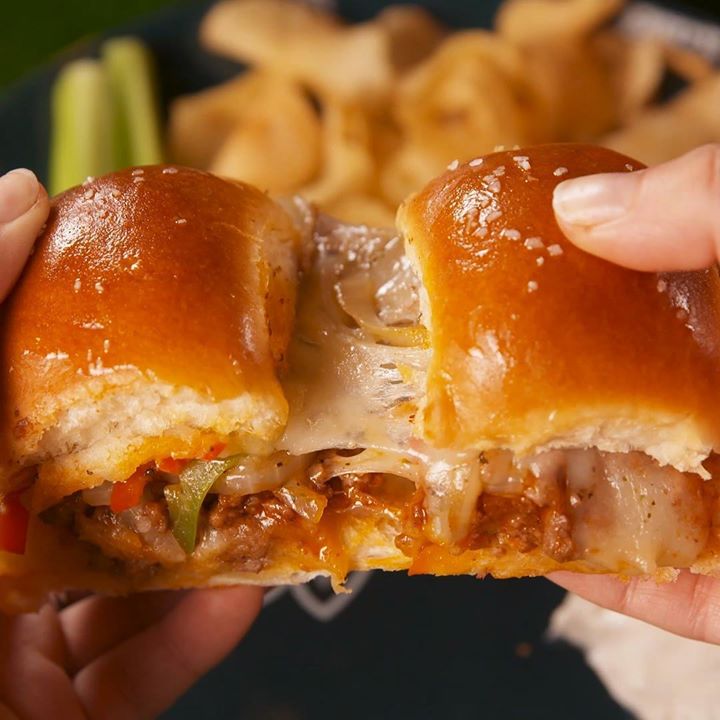 Ingredients
12 Slider buns
2 tbsp. extra-virgin olive oil, divided
2 bell peppers (red and green), thinly sliced
½ large onion, thinly sliced
1 tsp. Italian seasoning
kosher salt
Freshly ground black pepper
2 cloves garlic, minced
2 tsp. tomato paste
1 lb. ground beef
½ c. ketchup
1 tbsp. brown sugar
1 tbsp. Worcestershire sauce
12 slices provolone cheese
2 tbsp. butter, melted
Instructions
Preheat oven to 350° and place bottom halves of slider buns on a large baking sheet or baking dish. In a large skillet over medium heat, heat 1 tablespoon oil. Add peppers and onions and season with Italian seasoning, salt, and pepper. Cook, stirring often, until caramelized, 12 to 15 minutes, then remove from skillet and set aside.
Add remaining tablespoon oil to skillet and heat over medium. Stir in garlic and tomato paste and cook until fragrant, 1 minute. Add ground beef and cook until no longer pink, about 6 minutes. (Drain fat if desired.) Add ketchup, brown sugar, and Worcestershire sauce and season with salt and pepper. Simmer until mixture is thick, about 10 minutes.
Build sliders: Layer half the provolone on bottom buns. Spoon over meat mixture and top with cooked onions and peppers and remaining provolone. Top with slider bun tops, brush with melted butter, and sprinkle with kosher salt.
Bake until cheese is melty and sandwiches are warmed through, 12 to 15 minutes.
Watch the recipe video here:
How To Make Sloppy Cheesesteak Sliders

Only true Philadelphia Eagles fans will serve these championship-worthy Philly Cheesesteak Sliders at their Super Bowl Homegate!Shop the video: Philadelphia Eagles 60oz. Glass Pitcher, $28 +Philadelphia Eagles Woodrow 5-Piece Kitchen Knife Set, $35 NFLshop.comFull recipe: http://dlsh.it/dKFubZe

Posted by Delish on Saturday, February 3, 2018