Broccoli Rigatoni Casserole
The best way to eat your daily veggies is to hide them in pasta and cover them in cheese.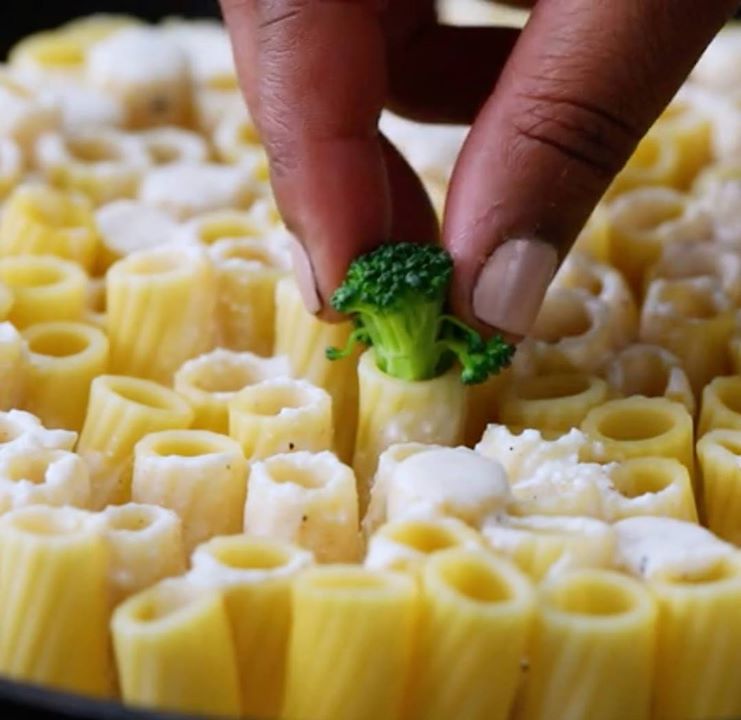 Ingredients
½ pound rigatoni
1 cup broccoli florets, steamed
1 cup cauliflower florets, steamed
4 tablespoons unsalted butter
1 tablespoon garlic, minced
1 cup heavy cream
½ cup Parmesan, grated
1 cup white cheddar, shredded, divided
½ teaspoon salt
½ teaspoon pepper
½ teaspoon nutmeg
Red pepper flakes, to garnish
Instructions
Preheat oven 375 degrees.
Boil a large pot of water, and cook pasta according to package instructions for al dente. Drain and set aside.
In a medium saucepan, melt butter. Add garlic and cook until soft, about 2 minutes. Add heavy cream, Parmesan, ½ cup of cheddar cheese, salt, pepper, and nutmeg. Stir until cheese is melted, and let simmer until thickened, about 5 to 8 minutes.
Pour half of the cream mixture into the bottom of a 9-inch round baking pan. Place rigatoni standing up in a circle filling the entire pan. Pour the remaining sauce in and around all of the noodles. Place the broccoli and cauliflower florets into the holes of rigatoni and sprinkle with the remaining shredded cheddar cheese. Bake 15 minutes until golden and melted. Garnish with red pepper flakes before serving.
Watch the recipe video here:
The best way to eat your daily veggies is to stick them in pasta and cover them in cheese.Taste for Yourself: taste.md/2rWbecP

Posted by Tastemade on Monday, May 21, 2018