Apple Pie Muffins
Apple Pie Muffins recipe.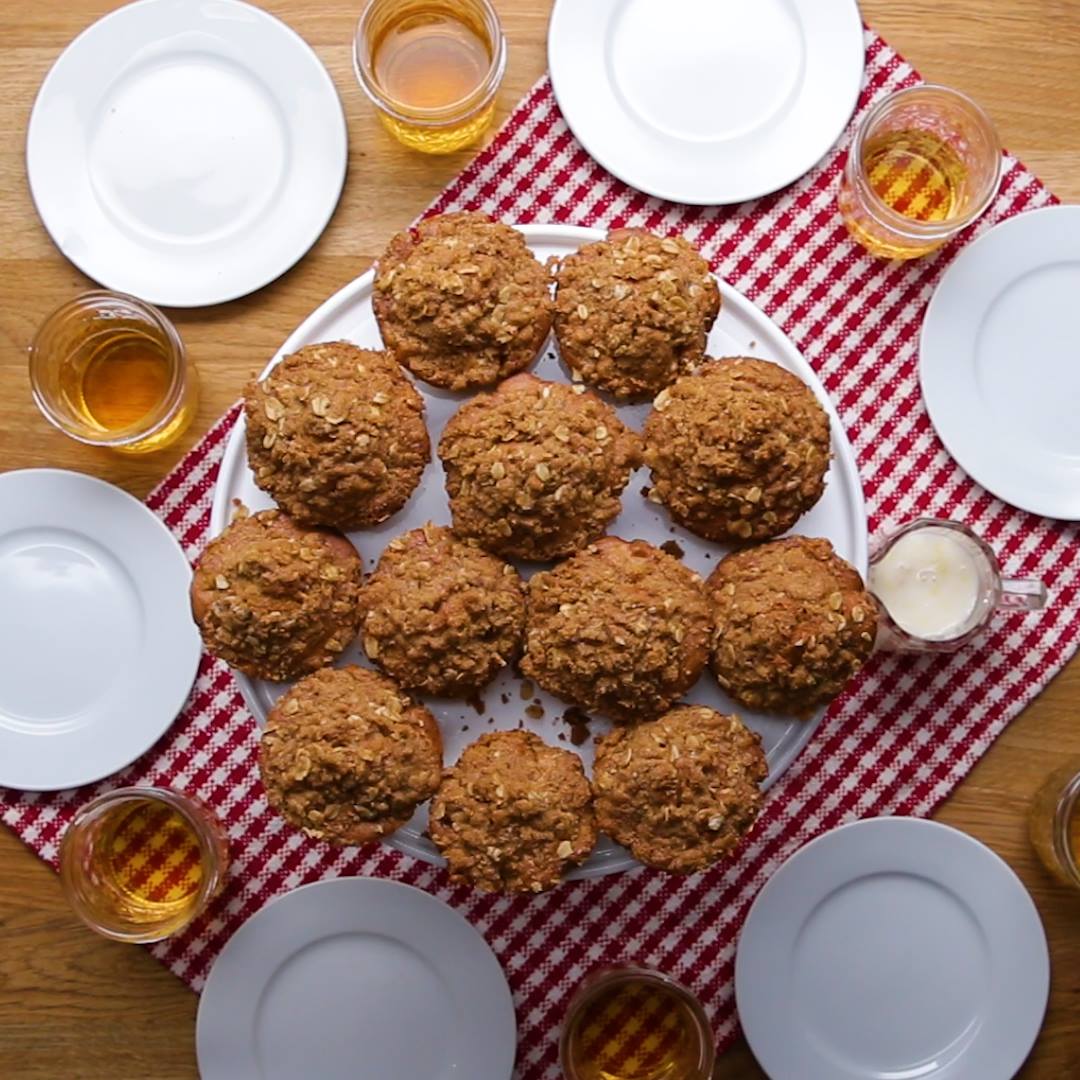 Ingredients
1 teaspoon butter, for greasing
MUFFINS
2 ½ cups all purpose flour (310 g)
1 red apple, peeled, cored, and diced
1 ½ cups brown sugar (330 g)
2 teaspoons cinnamon
1 teaspoon salt
1 teaspoon baking soda
1 teaspoon vanilla extract
1 large egg
½ cup applesauce (130 g)
½ cup plain yogurt (120 g)
1 cup apple juice (240 mL)
TOPPING
½ cup all purpose flour (60 g)
½ cup dark brown sugar (110 g)
4 oz unsalted butter (110 g)
¼ cup rolled oats (20 g)
1 teaspoon cinnamon
GLAZE
1 cup powdered sugar (120 g)
2 teaspoons lemon zest
2 tablespoons lemon juice
Instructions
Preheat the oven to 350°F (180°C). Grease a 12-cup muffin tin with butter.
Make the muffin batter: In a large bowl, combine the flour, apple, brown sugar, cinnamon, salt, baking soda, vanilla, egg, applesauce, plain yogurt, and apple juice. Whisk until well combined.
Make the topping: In a medium bowl, combine the flour, brown sugar, butter, oats, and cinnamon. Mix with a fork until crumbly.
Divide the muffin batter between the cups of the muffin tin. Top each muffin with 1 tablespoon of the crumble topping.
Bake for 30 minutes, or until a toothpick comes out clean when inserted in the center of a muffin.
Make the glaze: In a medium bowl, combine the powdered sugar, lemon zest, and lemon juice. Whisk until smooth.
Drizzle the lemon glaze on top of the muffins.
Enjoy!
Watch the recipe video here:
Apple pie you can eat for breakfast ?Get the recipe: https://tasty.co/recipe/apple-pie-muffins

Posted by Tasty on Wednesday, August 29, 2018