Tater Tot Quiche
Tater Tot Quiche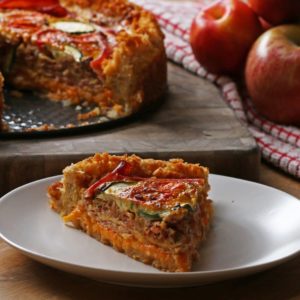 Ingredients
2 lb frozen tater tot, thawed (910 g)
1 cup shredded cheese blend (100 g)
9 slices cheddar cheese
10 large eggs
1 teaspoon salt
1 teaspoon pepper
½ teaspoon paprika
6 strips bacon, cooked and chopped
1 cup whole milk (240 mL)
6 slices ham, folded in half
½ zucchini, sliced
9 cherry tomatoes, halved
Instructions
Preheat the oven to 350°F (180°C).
Add the tater tots to a 10-inch (25 cm) springform pan. Use a flat-bottomed measuring cup to flatten the tots against the sides and bottom of the pan, creating a ½-inch (1 cm) thick tater tot crust.
Spread the shredded cheese evenly over the bottom of the crust.
Arrange cheddar slices along the walls and base, overlapping slightly.
Bake for 30 minutes, or until the crust is lightly golden brown.
In a large bowl, whisk together the eggs, salt, pepper, paprika, bacon, and milk.
When the crust is par-baked, remove from the oven and place the ham slices along the wall and base of the crust, overlapping slightly.
Pour the egg mixture into the center.
Add zucchini slices and cherry tomato halves on top.
Bake for 1 hour, or until the center is set.
Slice and serve warm.
Enjoy!
Watch the recipe video here:
This tater tots quiche takes breakfast to a whole new level ?FULL RECIPE: https://tasty.co/recipe/tater-tot-quiche

Posted by Tasty on Saturday, April 13, 2019