One-pot Ham & Potato Soup
One-pot Ham & Potato Soup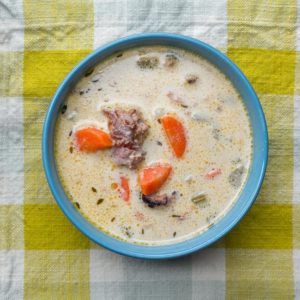 Ingredients
2 strips bacon, cut into 1-inch (2 cm) pieces
1 cup onion, diced (150 g)
1 cup carrot, diced (120 g)
1 cup celery, diced (225 g)
3 tablespoons flour
2 cups ham, cooked and cubed (300 g)
2 potatoes, cubed
1 teaspoon fresh thyme
1 teaspoon black pepper
6 cups chicken broth (1.4 L)
2 bay leaves
2 cups heavy cream (480 mL)
Instructions
In a 6-quart (5.7 liters) dutch oven, cook bacon over medium-high heat until fat is rendered out and the pieces begin to get crispy.
Add onion, carrot, and celery, and cook until just tender, about 3 minutes.
Reduce heat to medium and add flour, stirring constantly for 1-2 minutes to avoid lumps.
Add ham, potatoes, thyme, and black pepper. Stir to coat the meat and potatoes in the roux/vegetable mix.
Add the chicken broth and bay leaves.
Cover and bring to a boil. Then reduce heat to medium-low and cook covered for 25-30 minutes.
Remove bay leaves and stir in cream. Return to a simmer and serve.
Enjoy!
Watch the recipe video here: