Salted Caramel Brownie Trifle
Does this chocolate caramel trifle with whipped cream need to be shared?!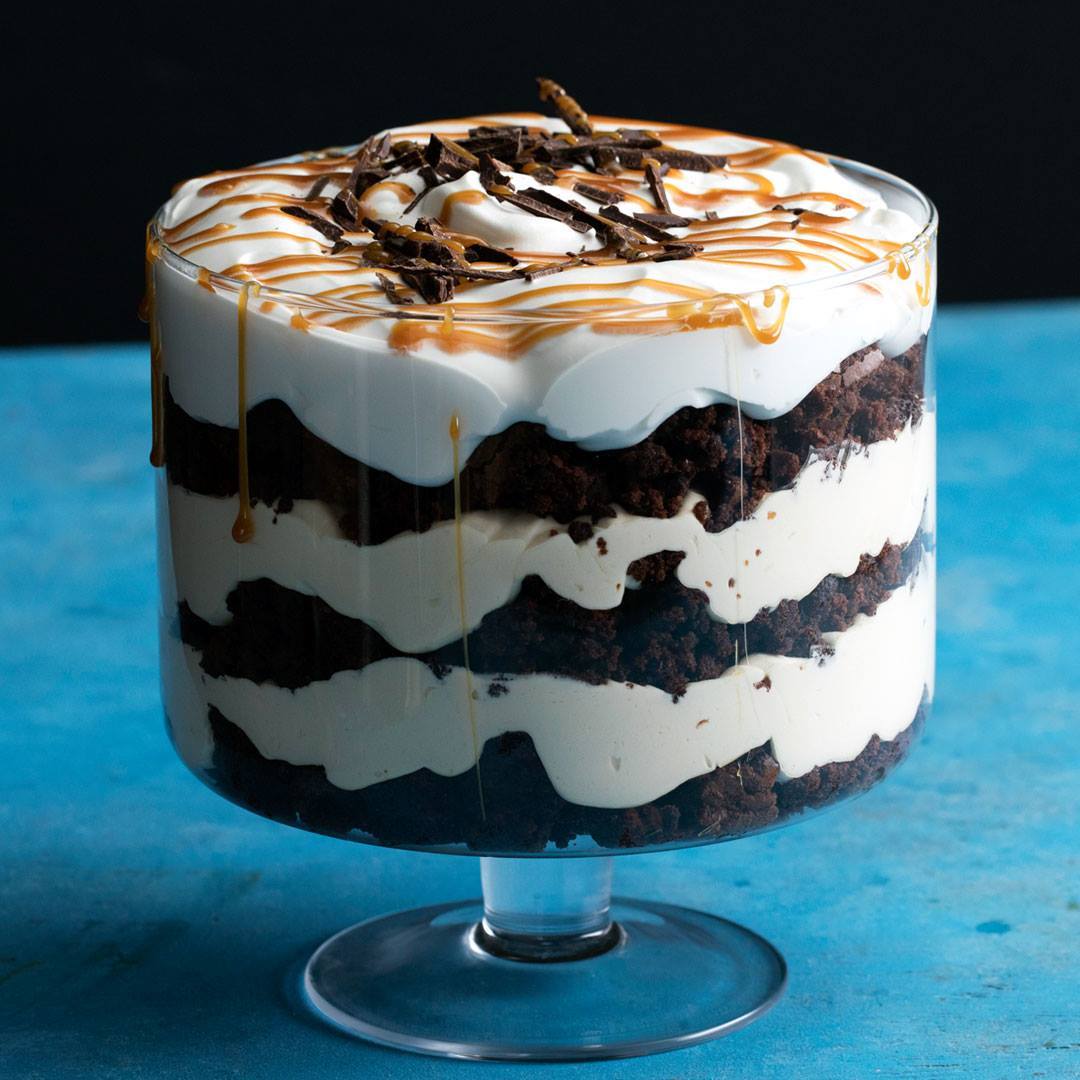 Ingredients
Brownies:
12 tablespoons unsalted butter
1 ½ cups sugar
⅔ cup cocoa powder
1 teaspoon vanilla extract
3 large eggs
1 cup flour
Salted Caramel Mousse:
1 cup sugar
6 tablespoons unsalted butter, room temperature
½ cup heavy cream, room temperature
2 teaspoons Maldon sea salt flakes
4 large egg yolks
½ cup granulated sugar
1 cup whole milk
1 teaspoon vanilla extract
5 cups whipped cream
Garnish
1 bar bittersweet chocolate, broken into pieces
Salted caramel sauce
Whipped cream
Instructions
To make the brownies: Preheat oven to 350 degrees. Line an 8x8 baking pan with parchment paper and set aside.
In a medium saucepan over medium, melt the butter. Add in the sugar and vanilla and whisk. Add in the cocoa powder, whisk and remove from heat.
Add the eggs, one and a time, whisking between each addition until the eggs are fully combined. Add the flour and stir well until the flour is fully incorporated.
Pour batter into the prepared baking pan and bake at 350 degrees for 30 minutes. Allow to cool completely, crumble into large chunks and set aside.
To make the mousse: in a medium heavy-bottomed saucepan, add 1 cup sugar. Cook over medium-high heat and stir until the sugar melts. Once the sugar has melted, stop whisking and Insert a candy thermometer into the pan and continue to cook the sugar until it turns amber in color and registers at 250 degrees, stirring often to prevent it from burning. Immediately add butter to the pan and remove it from the heat, whisking it to combine.
Add ½ cup heavy cream to the pan and whisk until combined. Set aside to cool and add sea salt flakes to taste.
In a large saucepan, whisk together the egg yolks, sugar and vanilla extract until creamy; set aside. In a small saucepan, warm the milk. Begin adding the hot milk mixture into the egg yolks, adding a little at a time and whisking vigorously after each addition. Once the everything is combined, cook over medium heat until the custard thickens and holds its shape well. Into the hot custard, add the salted caramel. Whisk until smooth and uniform. Cover the custard with plastic wrap and place into the refrigerator to cool completely.
Once custard has cooled completely, gently fold in 5 cups of whipped cream.
To assemble: drizzle the bottom of your trifle dish with caramel sauce then start with a layer of crumbled brownie, top with a layer of salted caramel mousse and repeat until you reach the top of your Trifle dish. Garnish with whipped cream, crumbled chocolate and salted caramel.
Watch the recipe video here:
Friday is our second favorite F word. Our first is food.Taste for Yourself: taste.md/2Jb3kmK

Posted by Tastemade on Friday, May 25, 2018