Beehive Cheesecake
Find out what all the buzz is about for yourself.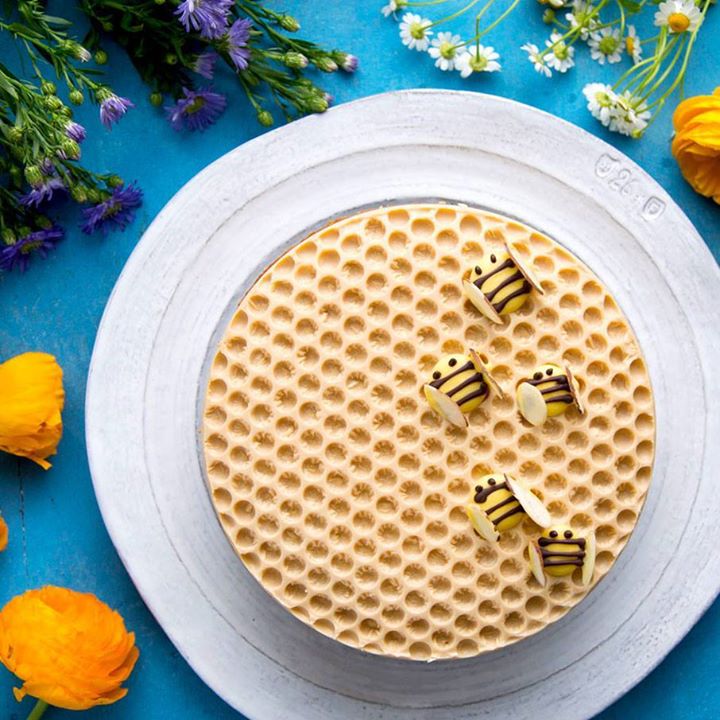 Ingredients
For the crust:
60 chocolate cookies, crumbled
Pinch salt
½ cup butter, melted
For the cheesecake:
3 cups cream cheese, softened
⅛ cup honey
¼ cup sugar
3 large eggs
2 teaspoons vanilla
1 teaspoon lemon juice
For the honeycomb:
¼ cup caramel candy melts
For the bees:
½ cup chocolate, melted
½ cup yellow candy melts, melted
24 sliced almonds
Instructions
Make the crust: Prepare a 9-inch springform pan with baking spray, and set aside.
In a large bowl, add chocolate cookie crumbs and pour in melted butter and salt. Mix to combine. Press into the bottom of the lined pan, and set in the refrigerator until cheesecake filling is made.
Make the cheesecake: Preheat the oven to 325 degrees.
In a large bowl, beat cream cheese until fluffy. Add honey and sugar. Add in eggs one at a time until combined. Add vanilla and lemon juice. Do not over mix.
Pour over crust and level in the pan. Bake for 40 to 45 minutes until cheesecake is set. Remove from oven and let cool for 1 hour. Set in fridge for 4 hours or up to overnight to completely chill.
Make the honeycomb: Prepare another 9-inch springform pan with baking spray, and line with parchment paper. Pour melted candy melts into the base of the pan and working quickly, top with a 12-by-12-inch piece of bubble wrap. Gently press bubble wrap into the chocolate and set aside until firm. Unmold the springform pan and remove the bubble wrap to reveal a circle resembling a honeycomb.
Make the bees: Line a baking sheet with parchment paper. Pour each of the melted chocolates into a small pastry bag. Drop a small tear drop of chocolate onto the parchment paper. Pipe yellow candy melts across the dark chocolate to create bee stripes. Place two sliced almonds on either side of the bee to create the wings. Repeat until desired number of bees are made.
Assemble the cheesecake: Unmold set cheesecake from the pan and top with honeycomb. Top with bees and serve. Cake will keep up to 5 days refrigerated.
Watch the recipe video here:
Find out what all the buzz is about for yourself.Taste for Yourself: taste.md/2HewSUp

Posted by Tastemade on Thursday, April 19, 2018