Black Forest Mousse Cake
May the (black) forest be with you with this chocolate mousse cake!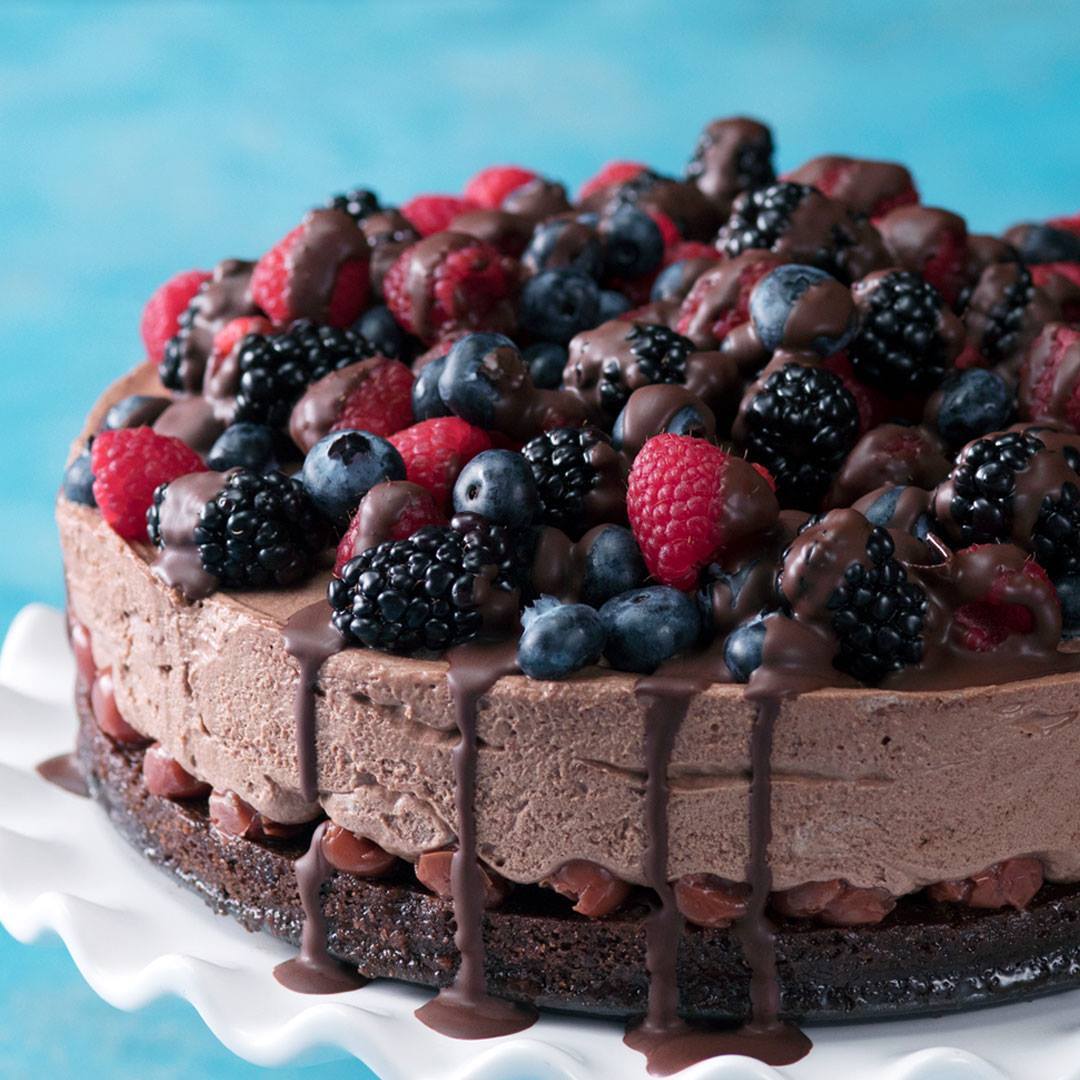 Ingredients
Cake:
1 box of brownie mix
2 eggs
⅓ cup water
½ cup oil
Cherry filling:
1 (15-ounce) can sweet cherries in syrup
½ cup sugar
2 tablespoons kirsch (can substitute cognac, brandy, other cherry liquor or omit entirely)
Mousse:
12 ounces semisweet chocolate chips, finely chopped
1 teaspoon vanilla extract
⅛ teaspoon kosher salt
3 cups heavy whipping cream, divided
¼ cup powdered sugar
Optional for garnish:
¼ cup melted chocolate for drizzle
Fresh mixed berries
Instructions
Preheat oven to 350 degrees. Line the bottom of a 9-inch springform baking pan with parchment paper and grease the sides. In a large mixing bowl, mix brownie mix, eggs, water and oil for 50 strokes or until well blended. Pour into the prepared springform pan and bake for 40 to 45 minutes or until a toothpick inserted one inch from the edge comes out clean. Set aside to cool.
To make the syrup, drain the cherries, reserving the syrup. Set the cherries aside. Pour syrup and sugar into a medium saucepan and bring to a boil, stirring gently to combine. Reduce heat to medium and gently simmer for 5 to 7 minutes. Remove from heat and stir in the kirsch. Set aside to cool.
In a large mixing bowl, stir the finely chopped chocolate with vanilla and salt. In a small saucepan, heat 1 cup heavy cream to a simmer. Pour the hot cream over the chocolate and allow to sit for 2 minutes, then stir gently until combined and smooth. Cool slightly to room temperature.
In a stand mixer fitted with the whisk attachment, whip the remaining 2 cups of heavy whipping cream on high until thick. Add the powdered sugar and continue whipping until stiff peaks form. Gently fold whipped cream into chocolate mixture.
When the brownie is cool, run a knife around the edge of the pan to loosen. Use a pastry brush to gently brush the cherry syrup all over the top of the brownie. Scatter the drained cherries over the top. Layer on the chocolate mousse. Refrigerate about 6 hours until completely set.
To serve, run a knife around the edge of the mousse and unmold the springform pan. Garnish with melted chocolate drizzle and fresh berries.
Watch the recipe video here:
Chocolate is natures way of making up for Mondays… all is forgivenTaste for Yourself: https://taste.md/2KqYao6

Posted by Tastemade on Monday, May 28, 2018