Blueberry Brioche
This baked blueberry brioche is going to take breakfast to the NEXT LEVEL!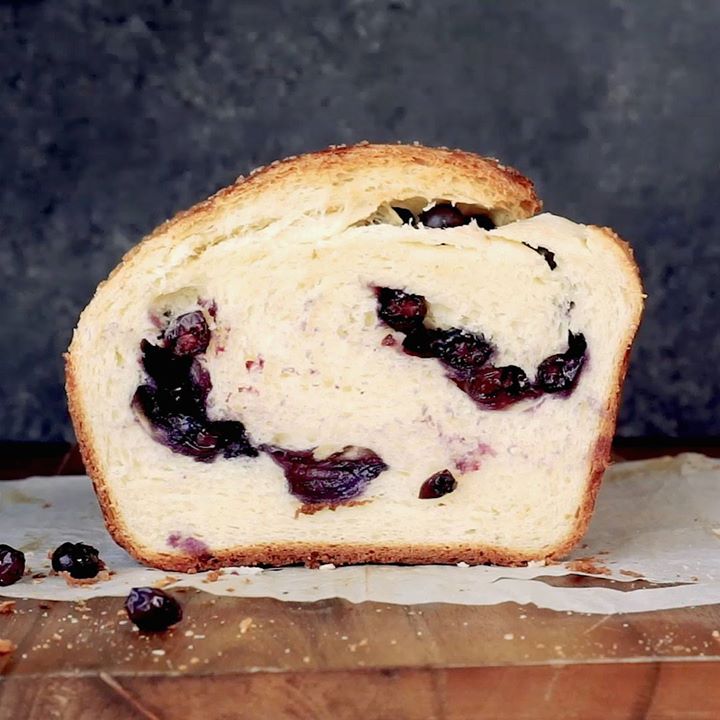 Ingredients
¼ cup warm whole milk
1½ Tbs. active dry yeast
3½ cups all-purpose flour (plus more if needed)
¼ cup sugar
1½ tsp. salt
5 eggs
2 sticks (1 cup) butter, at room temperature
1 batch egg wash (1 egg, mixed with 1 Tbs. cream)
1 cup blueberries
Turbinado sugar
Instructions
In the bowl of a stand mixer, add the yeast and milk. Allow the yeast to proof for about 5 minutes or until bubbly. Add the flour, sugar and salt. Fitted with the dough hook, mix for about 30 seconds or until the dough is shaggy. Add the eggs 1 at a time until incorporated. Mix for about 2 minutes until the dough comes together. (it will look sticky and clumpy). Add the butter in 1 tablespoon at a time and knead until combined before adding another tablespoon of butter. If the dough is still really sticky and wet add 1 tablespoon at a time of flour as needed for it to come together. Once the butter is combined and the dough is pulling away from the sides of the bowl, knead the bread for about 3 to 4 minutes or until the dough comes back together.
Place the dough in a large bowl, cover with plastic wrap and let rise in the refrigerator overnight or up to 24 hours. (or on the counter until doubled, about 1 hour)
Remove the dough and let rest at room temperature for about 30 minutes. On a lightly floured board, roll the dough out into a 12 x 6 in rectangle, trimming the dough if needed to get a rectangle. Brush dough with egg wash then place blueberries in a single layer. Roll the dough, starting with the shortest side into a tight tube. Place the dough into a 9 x 5" loaf pan that has been lined with parchment paper., cover lightly with a kitchen towel and let the dough rise until doubled, about 1 hour.
While the dough is rising, pre-heat oven to 350°F.
Brush the top of the brioche with the remaining egg wash and sprinkle with turbinado sugar. Bake the brioche for about 45 minutes or until golden brown. Let the brioche cool for about 15 to 20 minutes before serving.
Makes 1 loaf of brioche.
Watch the recipe video here:
This baked blueberry brioche is going to take breakfast to the NEXT LEVEL! ?Full recipe from Amanda's Kitchen: http://bit.ly/2fHfqIn

Posted by Tasty on Sunday, September 24, 2017