Chocolate Chip Cheesecake I
This is the best cheesecake I've ever had. People have offered to pay me to make these for them during the holidays!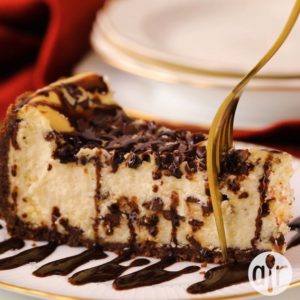 Ingredients
1½ cups graham cracker crumbs
⅓ cup white sugar
⅓ cup unsweetened cocoa powder
⅓ cup butter, melted
3 (8 ounce) packages cream cheese
1 (14 ounce) can sweetened condensed milk
3 eggs
2 teaspoons vanilla extract
1 cup mini semi-sweet chocolate chips
1 teaspoon all-purpose flour
Instructions
Preheat oven to 300 degrees F (150 degrees C). Mix graham cracker crumbs, sugar, butter and cocoa. Press onto bottom and up the sides of a 9 inch springform pan. Set crust aside.
Beat cream cheese until smooth. Gradually add sweetened condensed milk; beat well. Add vanilla and eggs, and beat on medium speed until smooth. Toss ⅓ of the miniature chocolate chips with the 1 teaspoon flour to coat (this keeps them from sinking to the bottom of the cake). Mix into cheese mixture. Pour into prepared crust. Sprinkle top with remaining chocolate chips.
Bake at 300 degrees F (150 degrees C) for 1 hour. Turn off oven (do not open oven door) and leave the cake in the oven to cool in the oven for another hour. Remove from oven and cool completely. Refrigerate before removing sides of pan. Keep cake refrigerated until time to serve.
Watch the recipe video here:
"This is the best cheesecake I've ever had. People have offered to pay me to make these for them during the holidays!"Chocolate Chip Cheesecake: https://trib.al/86eOlUV

Posted by Allrecipes on Sunday, December 16, 2018