Creamy Tuscan Chicken Pasta Bake
This tender chicken and bacon pasta studded with tomatoes and laced with spinach is a sure crowd pleaser. one pot pasta dish is a breeze to cook. Packed with flavour and grilled to perfection this is an ideal weeknight meal!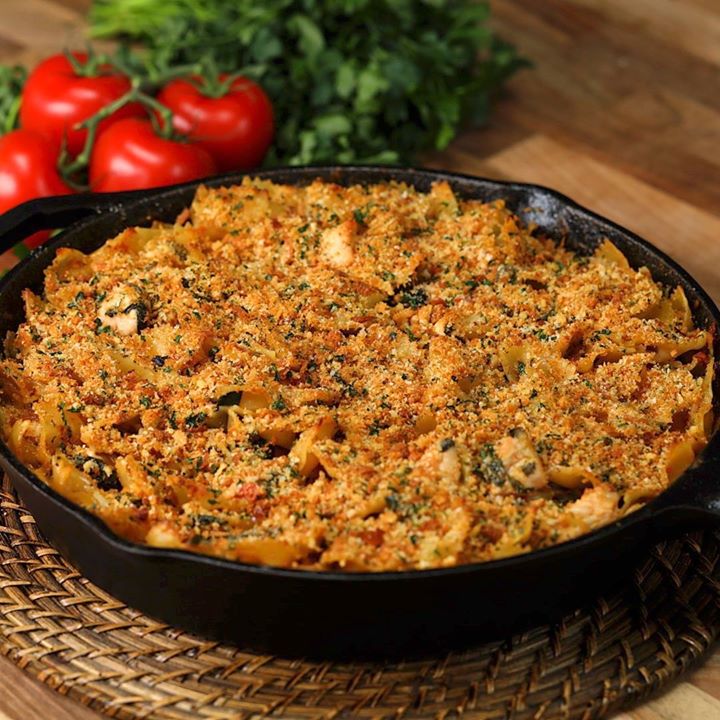 Ingredients
3 chicken breasts, chopped
8 rashers bacon, chopped
2 cloves garlic, chopped
2 tbsp olive oil
1½ cups heavy cream
2 tomatoes, chopped
1 bag baby spinach
Salt and pepper
1 cup parmesan grated, divided
1 packet farfalle pasta, cooked
1 cup breadcrumbs
2 tbsp finely chopped parsley
Instructions
In a large skillet heat 1 tbsp oil over medium-high heat, add chicken and bacon and cook until just golden and cooked through. Season with salt and pepper, remove and set aside.
Add 1 tbsp more oil. Garlic, tomatoes and spinach. Cook until spinach is wilted. Season with salt and pepper. Add chicken and bacon back in. Stir to combine. Add cream and ½ cup parmesan. Stir to coat. Add cooked farfalle and toss to coat evenly.
In a small bowl mix together bread crumbs, chopped parsley and ½ cup parmesan cheese. Generously sprinkle over top.
Grill for 5 minutes until golden brown.
Enjoy!
Watch the recipe video here: