Six-Flavored Cake
Make everyone happy with this multi-flavored cake made with chocolate and vanilla cake mix filled and topped with all sorts of goodies.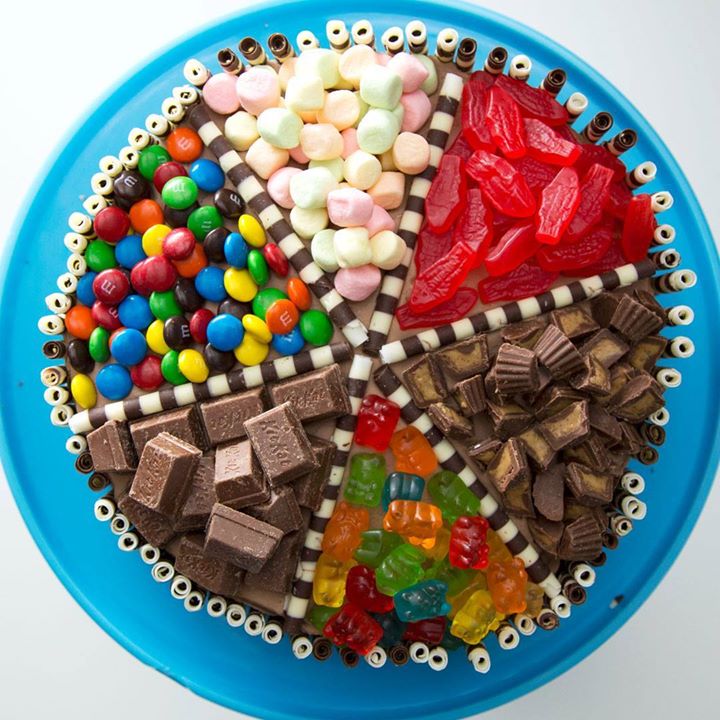 Ingredients
For the white cake:
2½ cups cake flour
1½ teaspoons baking powder
½ teaspoon baking soda
1 teaspoon salt
3 large eggs
1 teaspoon vanilla
¾ cup butter, softened at room temperature
1½ cups sugar
1 cup buttermilk
2 tablespoons blue food coloring
½ cup rainbow sprinkles
¾ cup mini chocolate chips
for the chocolate cake:
1½ cups all-purpose flour
1 cup sugar
1 teaspoon baking powder
½ teaspoon baking soda
1 teaspoon salt
⅓ cup cocoa powder
¾ cup butter, softened at room temperature
2 large eggs
2 teaspoons vanilla extract
¾ cup sour cream, room temperature
¾ cup peanut butter chips
½ cup crushed chocolate wafers
¾ cup crushed graham crackers
For the decorations:
2½ cups milk chocolate buttercream
½ cup Swedish fish
½ cup gummy bears
½ cup M&M's
½ cup peanut butter cup pieces
½ cup Kit Kat pieces
½ cup rainbow mini marshmallows
60 chocolate duo sticks
Instructions
Make the cake pan: Cover three 9x4-inch pieces of cardboard in two layers of aluminum foil. Cut a 3-inch vertical slit in the middle of each wrapped cardboard piece, and fit the three pieces locked together in a 10-inch pan lined with parchment paper.
Preheat the oven to 350 degrees. Spray the constructed cake pan with nonstick cooking spray and set aside.
Make the white cake: In a medium bowl, sift together the flour, baking powder, baking soda and salt. Set aside. In a small bowl, whisk together eggs and vanilla.
In a large bowl, cream butter and sugar. Add egg mixture. Alternate adding in the flour mixture and the buttermilk until completely combined. Set aside while you make the chocolate layer.
Make the chocolate cake: In a large bowl, combine the flour, sugar, baking powder, baking soda, salt and cocoa. Using a hand mixer, blend the butter, eggs and vanilla into the dry mix. Fold in the sour cream.
Build the cake: Pour one cup of the white batter in every other triangle. Fill in the remaining triangles with one cup of chocolate batter in each.
In one white triangle, place two drops of blue food coloring and swirl into the batter to resemble water. In the next white triangle, pour sprinkles and swirl to mix very carefully. In the last while triangle, pour in chocolate chips and carefully mix to combine.
In the first chocolate triangle, pour in peanut butter chips and swirl to mix. In the second chocolate triangle, mix in wafers. In the last triangle, mix in graham crackers.
Bake cake for 25 to 30 minutes until layers are fragrant and spring back when touched. Allow the cake to cool for up to 2 hours.
Assemble the cake: Carefully remove the aluminum-wrapped cardboard from the cake pan and flip the cake out onto a cake stand. Cover the cake with chocolate buttercream, taking care to keep track of what layer is where. Divide each triangle with a chocolate duo stick. Top the first white cake with Swedish fish, the second with gummy bears, and the third with M&M's. Top the first chocolate cake with peanut butter cup pieces, the second with Kit Kat pieces and the last with mini marshmallows. Cover the sides of the cake with remaining duo sticks. Serve immediately. Cake will keep up to 4 days covered.
Watch the recipe video here:
Finally! – a cake that can make everyone happy.Full Recipe: aste.md/2EmoTyW

Posted by Tastemade on Wednesday, February 14, 2018