Buckeye Cupcakes
The real star of this recipe is the peanut butter buttercream. We used a piping tip for a little extra flair, but it's just as good spread on with a knife. Just make sure you leave a thick layer so your buckeyes can sit comfortably on top.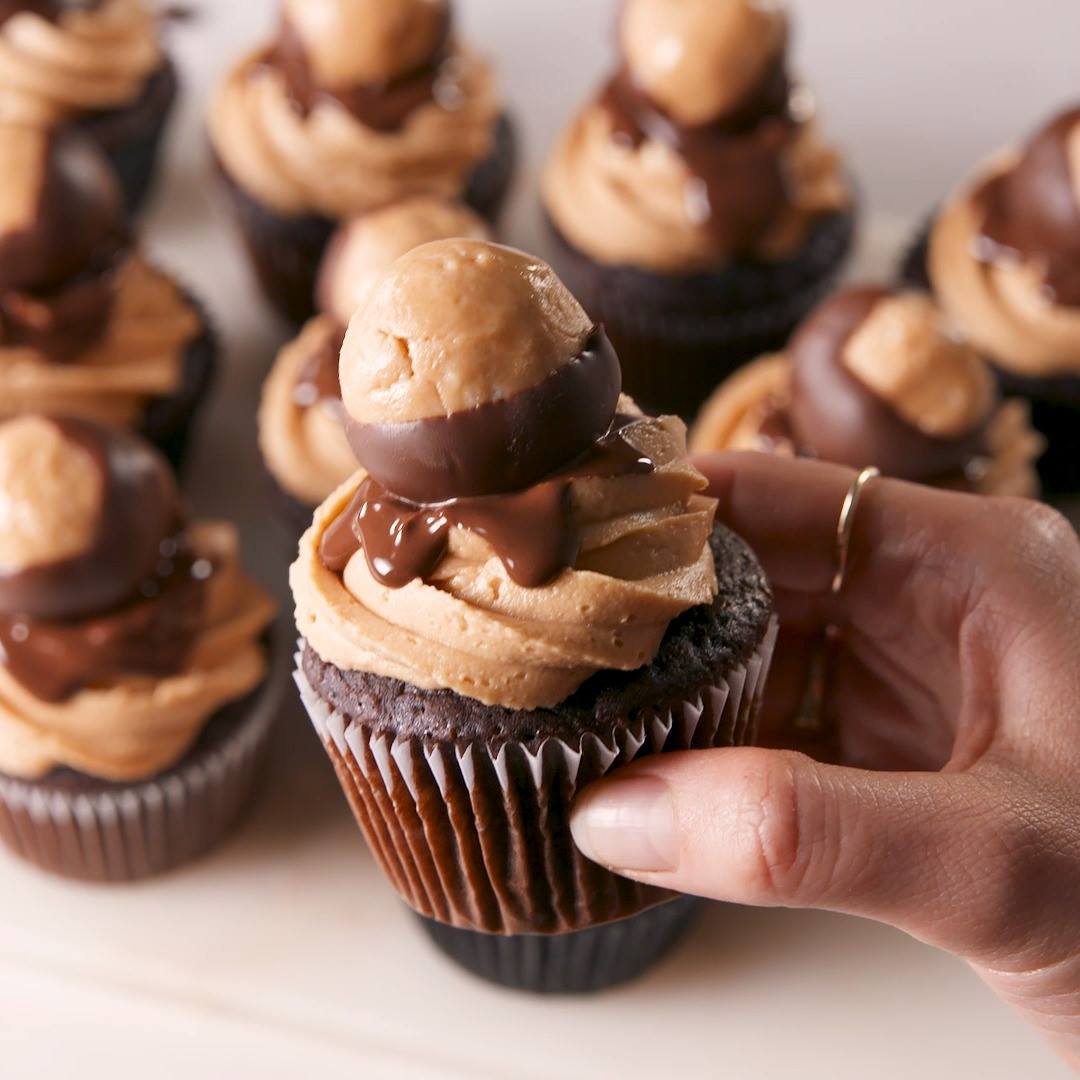 Ingredients
1 box chocolate cake mix, plus ingredients called for on box
FOR BUCKEYES
2 c. powdered sugar
1 c. smooth peanut butter
4 tbsp. butter, melted
½ tsp. pure vanilla extract
Pinch kosher salt
⅔ c. semisweet chocolate chips, melted
2 tsp. refined coconut oil (optional)
FOR BUTTERCREAM
2 c. creamy peanut butter
10 tbsp. unsalted butter, softened to room temperature
2 c.
2 tsp. pure vanilla extract
¼ tsp. kosher salt
2 tbsp. heavy cream
Instructions
Preheat oven to 350° and line two 12-cup cupcake pans with cupcake liners. Also line one small baking sheet with parchment paper.
Prepare chocolate cake mix according to package instructions. Fill each cupcake liner about two-thirds full with batter and bake until a toothpick inserted into each cupcake comes out clean, about 20 minutes. Let cool for 30 minutes.
Make buckeyes: In a large bowl using a hand mixer, beat together powdered sugar, peanut butter, butter, vanilla, and salt. Form into small, tablespoon sized balls and place on prepared baking sheet. Refrigerate until firm, 20 minutes. Mix melted chocolate with coconut oil, if using. Dip buckeyes in halfway into chocolate, then refrigerate 5 minutes more.
Make buttercream: In a large bowl, cream together peanut butter and butter until light and fluffy. Add powdered sugar, vanilla, and salt and beat until evenly combined. Gradually add heavy cream and beat until smooth and creamy.
Frost cupcakes with buttercream, then pour approximately a teaspoon of melted chocolate onto each cupcake. Top with a buckeye and serve.
Watch the recipe video here:
OMG these cupcakes are a peanut butter lover's DREAM ?Full recipe: http://dlsh.it/cfzS8C9

Posted by Delish on Saturday, May 26, 2018