Chicken Spinach Feta Pie
Chicken Spinach Feta Pie recipe.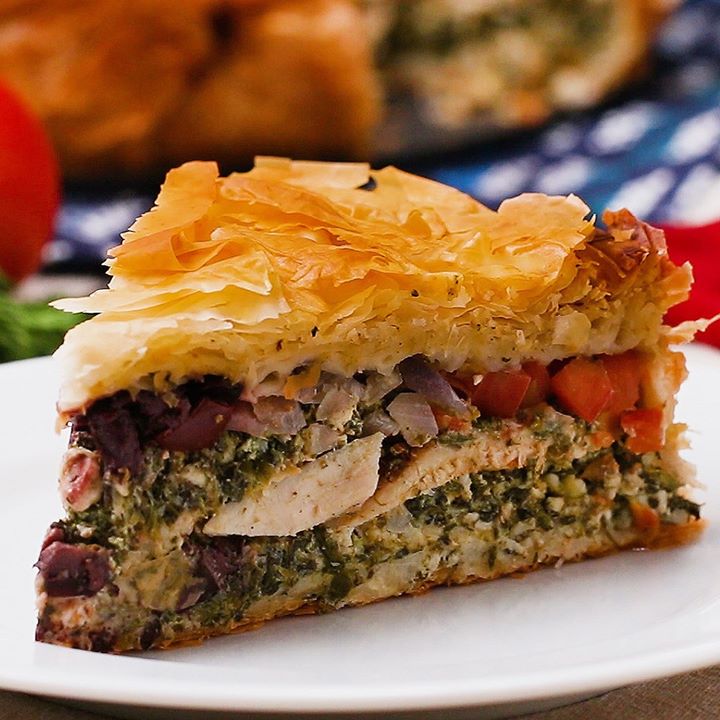 Ingredients
4 boneless, skinless chicken breasts
1 salt, to taste
1 pepper, to taste
4 cloves garlic, minced
1 tablespoon greek oregano
2 tablespoons olive oil
½ cup ricotta cheese
2 cups frozen spinach, thawed, chopped
1 cup feta cheese, crumbled
½ cup green onion, chopped
2 eggs, beaten
2 tablespoons fresh dill, chopped
1 package phyllo dough
1 cup butter, melted
1 cup red onion, diced
½ cup kalamata olive, chopped
1 cup tomato, diced
Instructions
Preheat oven to 400°F (200°C).
Season the chicken breasts with the salt, pepper, garlic, greek oregano, and olive oil.
Place the chicken breasts in a large skillet on medium-high heat with a tablespoon of oil. Cook until the first side is a dark golden brown, about 5 minutes. Flip the chicken and cook the other side until equally brown, about 5 minutes. Turn the heat to low and cook the chicken until it's cooked through about 10 more minutes. Set the chicken aside to cool and then slice it.
To a bowl, add the ricotta, chopped frozen spinach, feta cheese, chopped green onion, beaten eggs, dill, and pepper, and stir to combine.
Place the butter into a large shallow dish. Take about 5 sheets of the thin phyllo dough and dip it in the butter.
Place the buttered phyllo into a 9 inch (23 cm) springform pan. Make sure the dough complete covers the sides and hangs over the edges of the pan. Use as many sheets as needed to create a even layer all around.
Spread half of the feta spinach mixture on the bottom of the springform pan on top of the phyllo dough. Shingle one layer of the sliced cooked chicken, and spread the other half of the spinach feta mixture. Make sure each layer is tightly pressed.
Place the chopped tomatoes on the outer rim of the pie. Place a ring of chopped red onion, and then place chopped kalamata olives in the center.
Fold the phyllo dough from the edges of the pan to the center and cover the top of the pie with 3 more batches of buttered phyllo.
Cover the pie with aluminum foil and bake for 1 hour. Remove the aluminum foil cover and cook for about 20 more minutes, until the top is golden brown.
Let rest at room temperature for at least 30 minutes.
Remove the pie from the springform pan, slice, and serve.
Enjoy!
Watch the recipe video here:
Chicken spinach feta pie. Perfect for Sunday sharing ?FULL RECIPE: https://tasty.co/recipe/chicken-spanakopita-pie

Posted by Proper Tasty on Sunday, February 11, 2018