Baumkuchen Magic Toast
Whether you love cinnamon rolls, pancakes or something more savory, this toast delivers.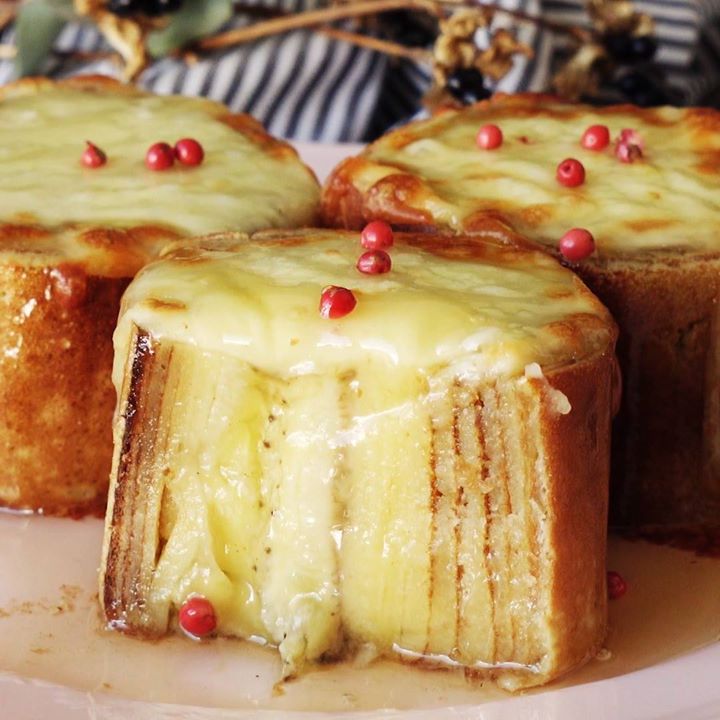 Ingredients
1 banana
1½ cups pancake mix
⅓ cup butter
¾ cup milk
½ cup sugar
2 eggs
Vegetable oil
Shredded cheese
Honey
Instructions
Preheat oven to 480°F.
Cut both ends of the banana to fit a square pan.
Mix together pancake mix, butter, milk, sugar and eggs.
Heat oil in square pan and pour in a small amount of batter.
When batter is half cooked, place banana on top. Roll it up.
Push the cooked portion to the top and pour more batter onto pan. Roll the cooked portion onto the raw batter to make it thicker.
Continue to do this until all the batter is used. You should end up with one thick roll.
Cut into three thick slices and place on a baking sheet lined with parchment paper.
Top with shredded cheese and bake until cheese has melted.
Drizzle with honey just before serving.
Watch the recipe video here:
One bite & you'll understand why we call it magic toast.Full Recipe: taste.md/2EvVx4o?: Tastemade Japan

Posted by Tastemade on Sunday, February 11, 2018