Crispy Cordon Bleu Chicken Pasta
Chicken 'cordon bleu' is French for Chicken 'blue ribbon', which is potentially confusing. It also has nothing to do with the famous Cordon Bleu cookery school. Despite these mysterious origins, the concept of deep fried, rolled chicken breast with ham and cheese has international appeal (why wouldn't it). We're taking a new slant on this erroneously monikered dish - introducing it to a wonderful, creamy pasta and adding parmesan - sorry Italy!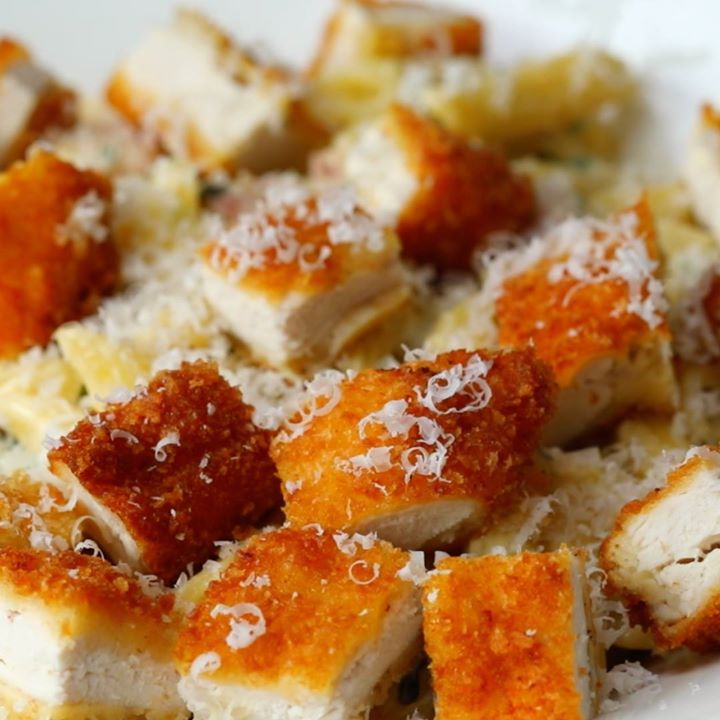 Ingredients
2 chicken breasts
Plain flour
Beaten eggs
Panko bread crumbs
1 tbsp butter
3 cloves garlic
300ml double cream
200g gruyere
½ cup parmesan
200g chopped ham
1 tbsp dijon mustard
Seasoning
500g cooked penne
Instructions
Season and place each chicken breast between two layers of clingfilm and bash with a rolling pin - don't hit too hard as you'll just turn the chicken to mush. Keep bashing until the chicken is roughly 1cm thick all the way through.
Take each chicken breasts and dip it first in the bowl of shower, shaking off excess, then the eggs, and finally the breadcrumbs.
Fry each chicken breast in a shallow (but stable) pan of oil at 170°C, turning over half way through. Keep them warm while you make the pasta.
Fry the garlic in the butter for around a minute, then pour over the cream and stir in the cheeses, ham, mustard and seasoning. Stir everything together.
Pour in the pasta and the parsley and stir together, then place in bowls. Top with the chicken (cut it into little squares to make it easier to eat) and sprinkle with parmesan.
Consume.
Watch the recipe video here: