Sweet Potato Breakfast Boats
Sweet Potato Breakfast Boats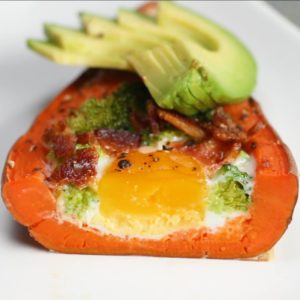 Ingredients
2 large sweet potatoes
4 large eggs
salt, to taste
black pepper, to taste
ASSORTED FILLINGS AND TOPPINGS
spinach
tomato, diced
broccoli floret
shredded cheddar cheese
white onion, diced
red bell pepper, diced
bacon, cooked and crumbled
sriracha sauce
avocado
Instructions
Use a fork to pierce holes all over the sweet potatoes.
Preheat oven to 400°F (200°C).
Microwave the potatoes for 7 minutes until they have softened significantly.
Slice the potatoes in half and use a spoon to scrape out the inner flesh, making sure to leave at least a ¼-inch (6 mm) thick border on each side, saving the scooped out potato parts to use for side dishes.
Transfer the potatoes to a parchment paper-lined baking sheet.
Fill each of the potatoes with 1 egg and an assortment of fillings for whatever flavor combinations you'd like. Season each potatoes with salt and pepper.
Bake for 8-12 minutes, until the egg has cooked to preferred doneness.
Top the potatoes and side dishes with your choice of topping and garnishes and serve.
Enjoy!
Watch the recipe video here:
Have a healthy and filling breakfast with these sweet potato breakfast boats! FULL RECIPE: https://tasty.co/recipe/sweet-potato-breakfast-boats

Posted by Tasty on Monday, January 28, 2019