Instant Pot Apple Butternut Squash Soup
This seasonal favorite stars tangy, sweet apples and velvety butternut squash.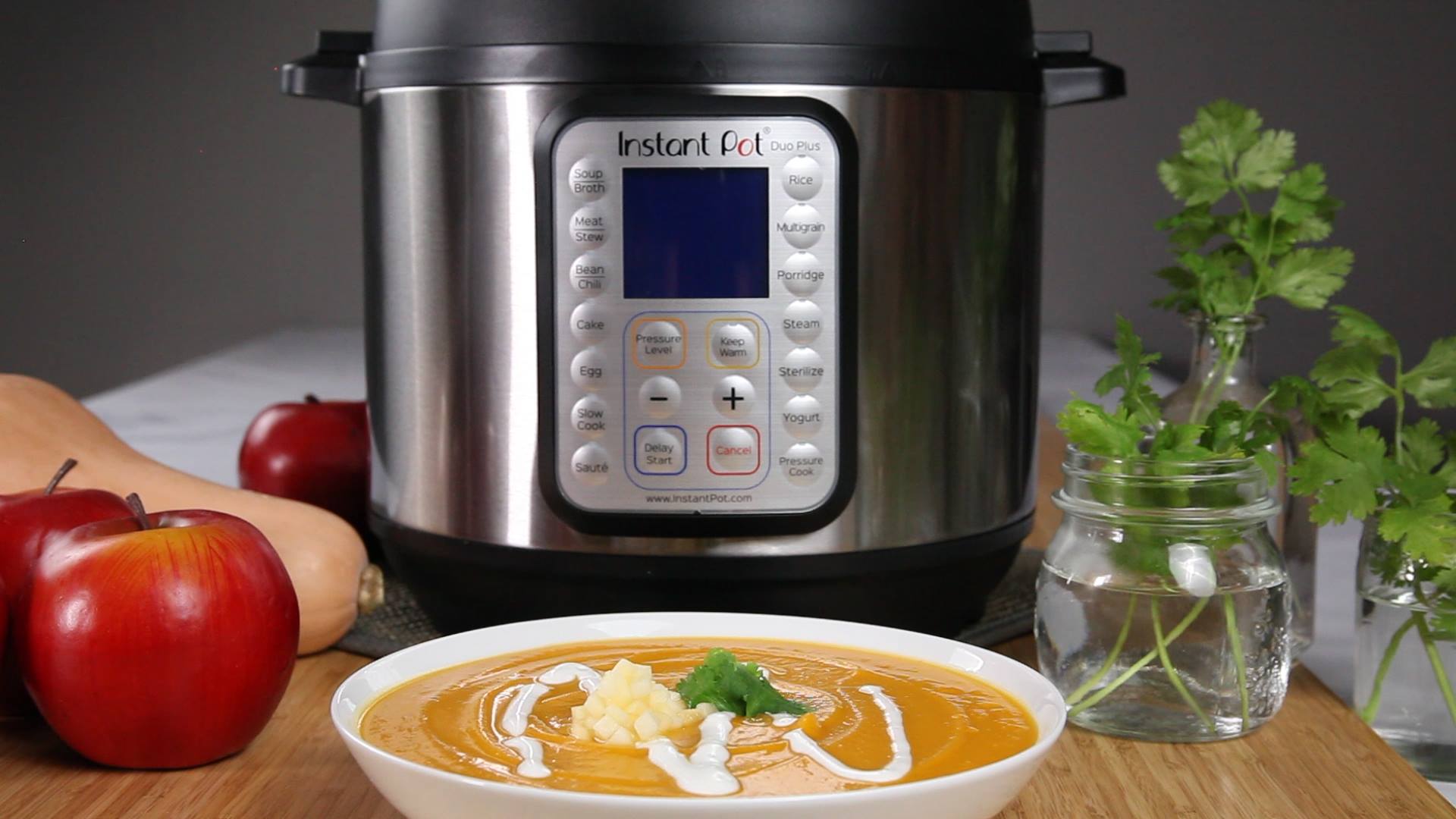 Ingredients
1 tsp olive oil
½ onion, finely diced
2 apples, peeled and cubed
2 tsp salt
1½ tsp cumin
½ tsp ground coriander
¼ tsp cayenne (optional)
2 cups chicken (or vegetable) broth
1½ lb butternut squash, peeled and cubed
¼ cup heavy cream
1 tbsp maple syrup
Sour cream or plain yogurt for serving
Additional cubed apples tossed in lemon juice for garnish (optional)
Instructions
Add olive oil to the Instant Pot. Using the display panel select the SAUTE function.
When oil gets hot, add onion to the pot and saute until soft, 2-3 minutes. Add apple, salt, and spices and stir to combine.
Add broth to the pot and deglaze by using a wooden spoon to scrape any brown bits from the bottom of the pot.
Add squash and stir. Turn the pot off by selecting CANCEL, then secure the lid, making sure the vent is closed.
Using the display panel select the MANUAL function*. Use the +/- keys and program the Instant Pot for 5 minutes.
When the time is up, quick-release the remaining pressure, then select CANCEL to turn off the pot.
Use an immersion blender (we love this one: https://amzn.to/2yBqLSB) to blend the soup until smooth.
Cool slightly, then stir in cream and maple syrup.
Serve warm with a dollop of sour cream or plain yogurt. Garnish with additional cubed apples as needed.
Watch the recipe video here:
This seasonal favorite stars tangy, sweet apples and velvety butternut squash.FULL RECIPE: http://chopsecrets.com/instant-pot-apple-butternut-squash-soup/

Posted by Chop Secrets on Thursday, December 27, 2018