Watermelon Poke Bowl
Enjoy watermelon while it's still in season with this watermelon poke bowl!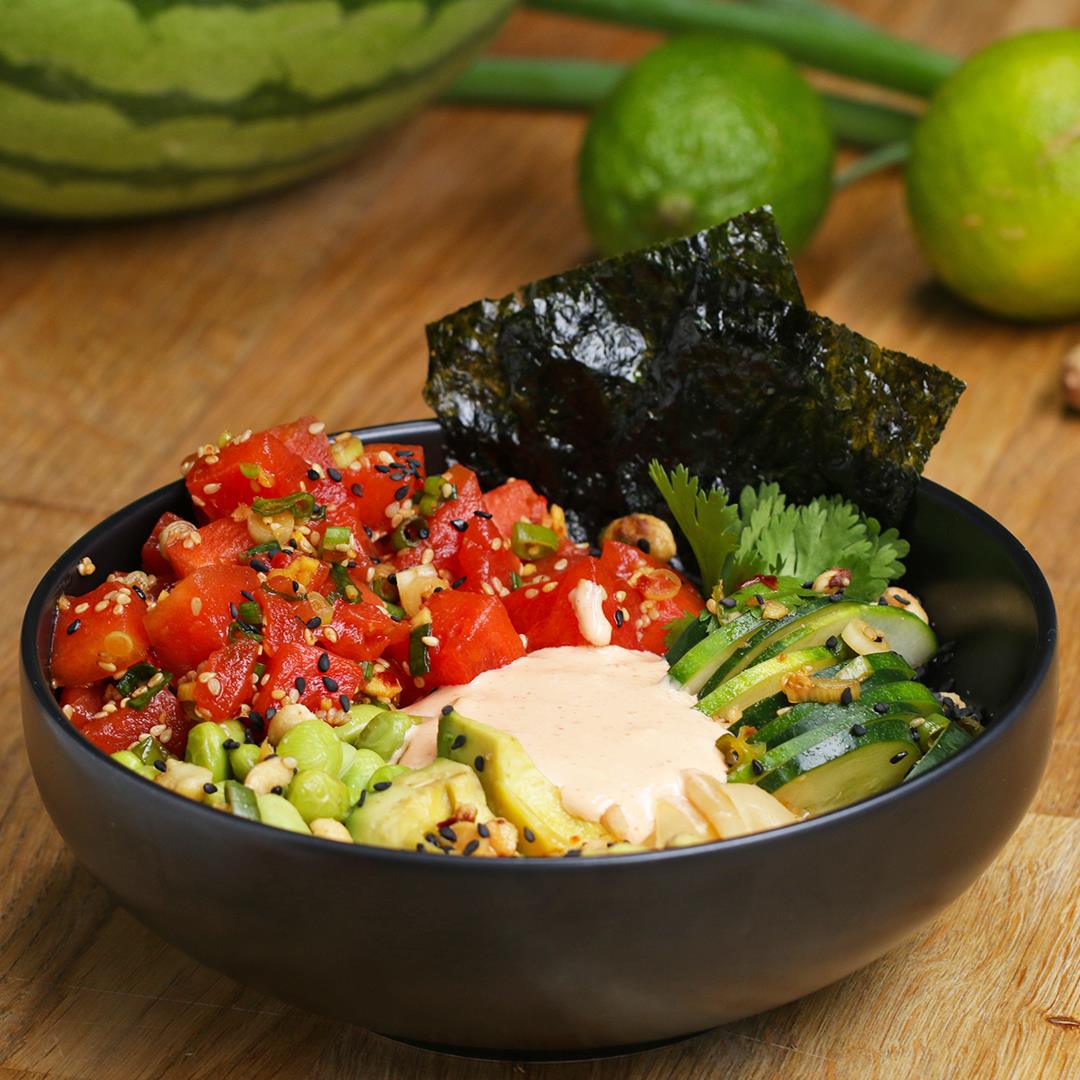 Ingredients
1 mini watermelon, sliced
6 tablespoons soy sauce
2 teaspoons rice vinegar
1 tablespoon sesame oil
1 lime, juiced
1 tablespoon agave nectar
2 scallions, minced
2 tablespoons fresh ginger, minced
2 tablespoons white sesame seeds, toasted
1 teaspoon red chile flakes
1 medium cucumber
6 tablespoons mayonnaise
2 tablespoons sriracha
white rice, cooked, for serving
avocado, sliced, for serving
shelled edamame, for serving
nori sheets, for serving
pickled ginger, for serving
fresh cilantro, for serving
peanuts, crushed, for serving
black sesame seeds, for garnish, optional
Instructions
Using a sharp knife, cut around the watermelon slices rind to remove, then dice into 1-inch (2 cm) cubes.
Transfer 4 cups (600 g) to a medium bowl, reserving the rest for another use.
In a small bowl, combine the soy sauce, rice vinegar, sesame oil, lime juice, agave, scallions, ginger, white sesame seeds, and chile flakes. Mix well.
Pour the marinade over the watermelon cubes and stir. Cover the bowl with plastic wrap and let marinate in the fridge for 1 hour.
Slice the cucumber into thin half moons and set aside.
In a small bowl, combine the mayo and Sriracha.
To assemble the poke bowls, start with rice as a base and top with cucumbers, avocado, edamame, nori, pickled ginger, Sriracha mayo, cilantro, and crushed peanuts.
Add a scoop of the marinated watermelon and use the marinade as a dressing to drizzle over the bowl.
Garnish with black sesame seeds, if desired.
Enjoy!
Watch the recipe video here:
Enjoy watermelon while it's still in season with this watermelon poke bowl!Get the recipe: https://tasty.co/recipe/watermelon-poke-bowl

Posted by Tasty on Saturday, September 15, 2018