Instant Pot Best Pork Carnitas
Every tortilla dreams of being stuffed with carnitas.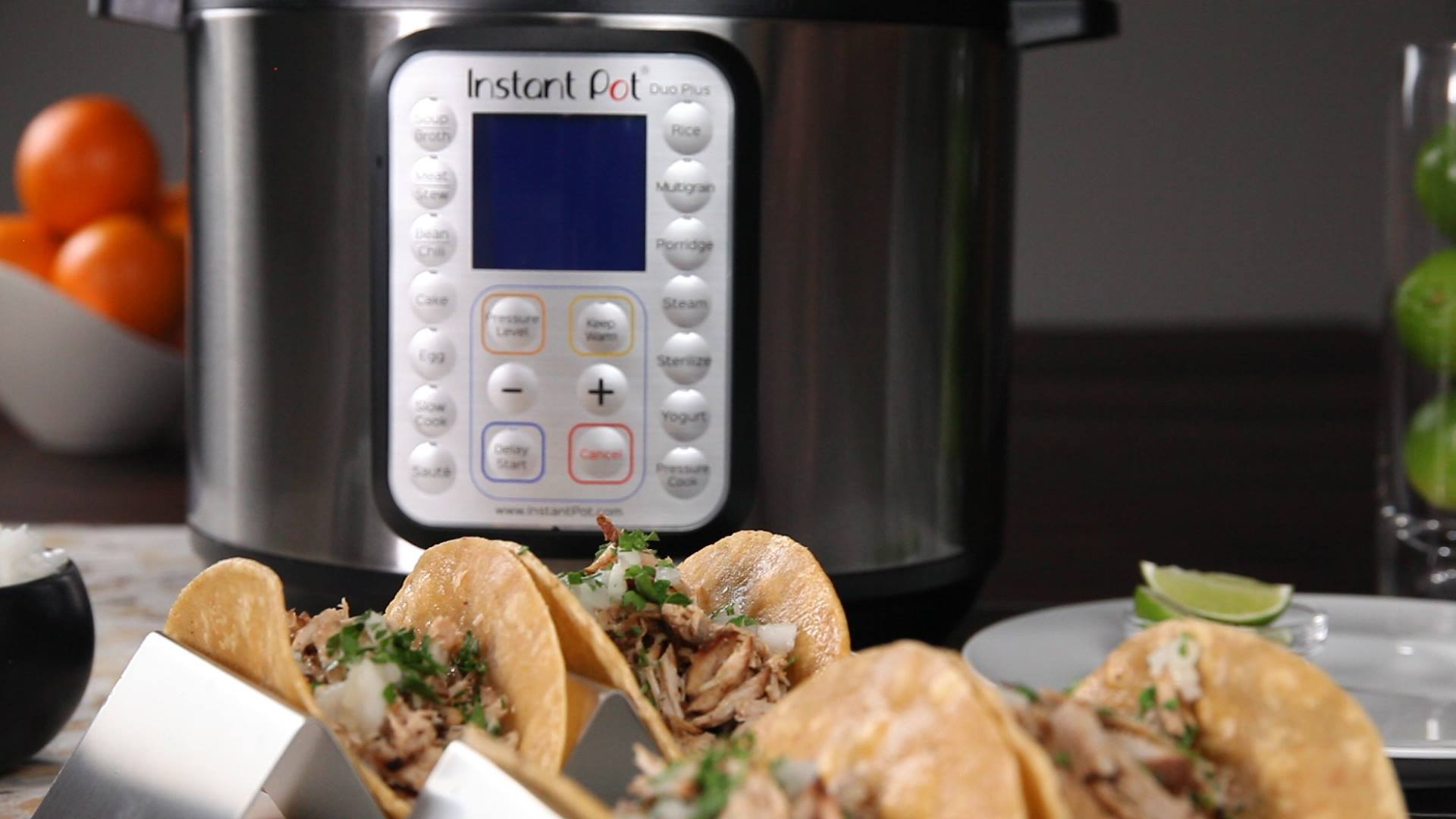 Ingredients
2 oranges, cut in half
2 limes, cut in half
Additional orange juice as needed (or water)
1 tbsp cumin
1 tbsp kosher salt
1 tbsp dried oregano
1 tsp chipotle chili powder
1 tsp smoked paprika
3-4 lb well-marbled pork shoulder or butt cut into ~1 lb pieces and left at room temp for 15 minutes
1 tbsp oil
2 cloves garlic, minced
1 onion, quartered
2 cinnamon sticks
Corn or flour tortillas for serving
Toppings (optional): ½ cup chopped cilantro, avocado slices, lime wedges
Instructions
Squeeze oranges and limes into a small bowl or measuring cup. Add additional orange juice (or water) to make ¾ cup liquid, reserve rinds.
In a medium bowl, combine the Rub Mixture ingredients, then add the pork pieces and coat thoroughly.
Add oil to the Instant Pot. Using the display panel select the SAUTE function.
When oil gets hot, brown the pork on both sides, 2-3 minutes per side. Meat will not be cooked through. Do not crowd the pot–you may have to work in batches. Transfer browned meat to a shallow dish and cover loosely with foil.
Add garlic and cook for 1-2 minutes until lightly browned.
Add orange/lime juice to the pot and deglaze by using a wooden spoon to scrape the brown bits from the bottom of the pot.
Add quartered onion to the pot and lay pork pieces on top of the onion. Place citrus rinds cut-side down on top of the pork. Drop in cinnamon sticks.
Turn the pot off by selecting CANCEL, then secure the lid, making sure the vent is closed.
Using the display panel select the MANUAL function*. Use the +/- keys and program the Instant Pot for 60 minutes.
When the time is up, let the pressure naturally release for 15 minutes, then quick-release the remaining pressure.
Carefully remove the pork from the pot to a parchment-lined baking sheet and shred. Pour ⅔ cup cooking juice over the meat.
Set the pan under the broiler until tips of pork are browned and slightly crisp, 3-5 minutes.
Serve warm on tortillas with your choice of toppings.
Watch the recipe video here: