Broken Heart Chocolate Cake
For that person who feels nothing but daggers towards Valentine's Day, we gift you a cake that will crack you up. It's pretty cathartic to make, and delicious too.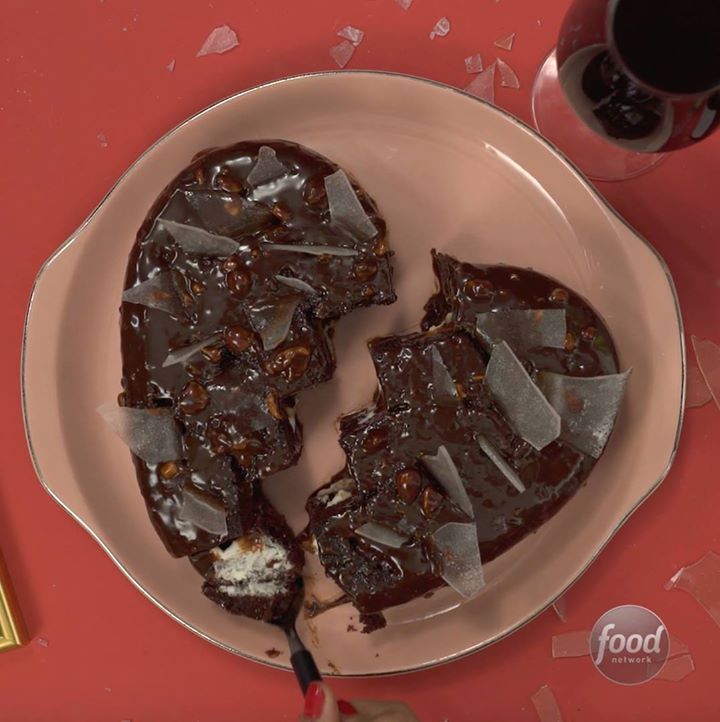 Ingredients
Cake:
Nonstick cooking spray, for greasing the pan
All-purpose flour, for dusting the pan
One 15.25-ounce box chocolate cake mix (plus required ingredients)
Sugar Glass:
⅔ cup granulated sugar
¼ cup light corn syrup
¼ teaspoon cream of tartar
Frosting:
One 12-ounce box assorted mixed nuts and chews chocolates (about 24 pieces), such as Russell Stover
¼ cup heavy cream
Whipped Cream:
1½ cups heavy cream
¼ cup granulated sugar
Instructions
Special equipment: a 9-inch heart-shaped cake pan
For the cake: Preheat the oven to 350 degrees F. Spray a 9-inch heart-shaped cake pan with cooking spray and dust with flour, tapping out the excess.
Prepare the cake batter according to the package directions and pour into the prepared pan. Bake until a toothpick inserted into the center comes out clean, 40 to 45 minutes. Remove to a rack to cool for 10 minutes. Invert the cake pan onto a plate to remove the cake from the pan, then invert back onto the rack to let cool completely.
For the sugar glass: Line a baking sheet with parchment. Stir together the sugar, corn syrup and cream of tartar in a small microwave-safe bowl. Heat in the microwave in 2-minute intervals, stirring in between each, until the sugar starts to dissolve and the mixture turns a very light golden, about 4 minutes. Pour the mixture onto the prepared baking sheet and smooth with an offset spatula into a thin rectangle about 9 inches by 7 inches. Refrigerate until hardened completely, about 15 minutes. Use a meat mallet to break the sugar so that it resembles broken glass.
For the frosting: Melt the chocolates and heavy cream in a small saucepan over medium-low heat, stirring frequently, until smooth. Set aside to cool slightly.
For the whipped cream: Whip the heavy cream and sugar in a bowl with an electric mixer on medium speed until stiff peaks form.
Assemble the cake: Once the cake has cooled, use a serrated knife to shave off the top to make it flat (it domes as it bakes). Cut the cake in half horizontally to make 2 even layers, then, keeping the layers stacked, use a paring knife to cut jagged edges in a zigzag formation down the middle of the cake so that you have 2 halves of a broken heart.
Place the 2 bottom halves on a cake stand or plate so they are separated a little. Spread the whipped cream evenly over the bottom halves. Top with the 2 top halves and drizzle the melted frosting over the top so that it covers the top and drips down the sides of the cake. Decorate with the broken sugar glass and refrigerate until the chocolate has hardened, about 15 minutes. Slice and serve.
Watch the recipe video here: