Mashed Potato Pie
Mashed Potato Pie recipe.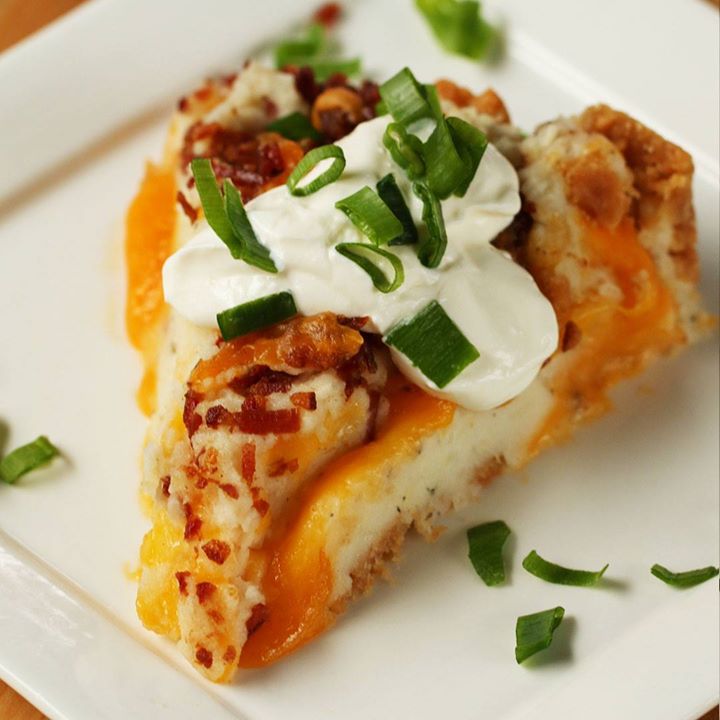 Ingredients
60 butter crackers
1 egg
3 tablespoons unsalted butter, melted
4 russet potatoes, peeled and boiled
1 tablespoon unsalted butter
1 ¼ cups sour cream, divided
½ cup milk
1 ½ teaspoons salt
1 teaspoon pepper
2 cups shredded cheddar cheese
11 strips bacon, cooked and chopped
½ cup green onion, chopped
Instructions
Preheat oven to 350°F (180°C).
Place butter crackers in a food processor and blend until they are a fine, sandy texture. Transfer to a small mixing bowl.
Add egg and melted butter to the crumbled crackers. Stir until crumbs become a clumpy, wet sand texture. Place the cracker mixture in the base of a 9-inch (22-inch) pie dish to create the crust. Use a measuring cup to smooth the surface.
Bake for 10 minutes. Remove from oven and let cool for 10 minutes.
Mash russet potatoes in a large mixing bowl. Once thoroughly mashed, add butter, ¼ cup(60 gram) sour cream, milk, salt and pepper and mix together with large spoon or spatula.
Spread half of the mashed potatoes over the cooled cracker crust, about ¼-inch in thickness.
Cover mashed potatoes with a layer of cheddar cheese, making sure to save some for the top.
Spread the other half of mashed potatoes over the cheese layer. Sprinkle bacon bits and remaining cheese over the top.
Bake for 20 minutes.
Serve with sour cream and green onions.
Enjoy!
Watch the recipe video here:
You could never go wrong with mashed potato pie ?!FULL RECIPE: https://tasty.co/recipe/mashed-potato-pie

Posted by Tasty on Saturday, February 10, 2018