Hasselback Cheese Puff Fried Chicken
Can you guess what ingredient makes this hasselback fried chicken so amazing? ? ✨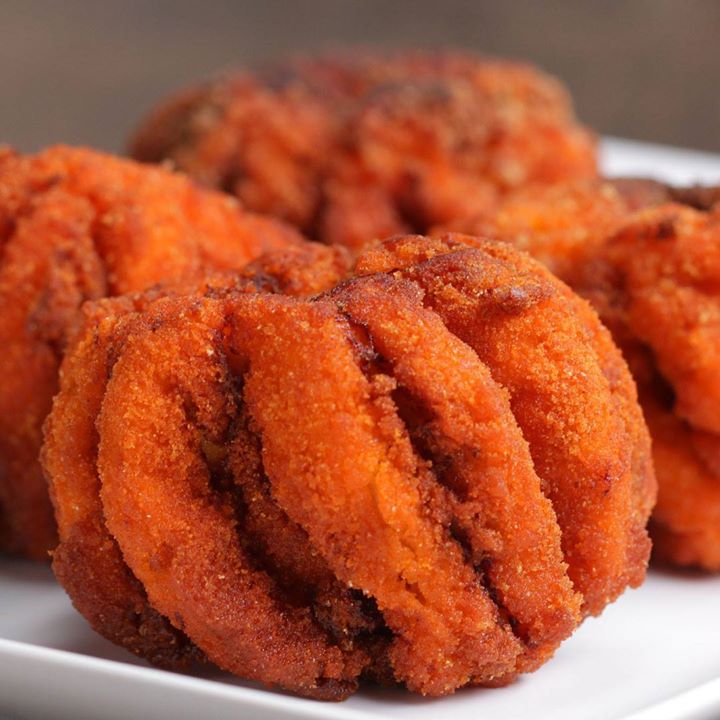 Ingredients
4 boneless, skinless chicken breasts
1 salt, to taste
1 pepper, to taste
3 cups buttermilk
1 packet ranch seasoning
10 cups cheese puff
1 oil, to fry
Instructions
Season chicken breasts with salt and pepper.
Make parallel cuts in each chicken breast without slicing all of the way through. Place chicken breasts in a large bowl.
Add buttermilk and ranch seasoning mix to the bowl and stir until chicken is well-coated. Marinate in refrigerator for 4 hours, or overnight.
While chicken is marinating, place 10 cups of cheese puffs in a food processor or blender and pulse until finely ground. Pour into a large bowl.
Using tongs or yours hands, toss each marinated chicken breast into cheese puff powder.
Bend coated chicken breast to form a hollow circle. Use a toothpick to seal the ends together.
Heat oil to 350°F (175°C) in a large skillet or pot.
Carefully place each breast in the hot oil and cook for 4-5 minutes, or until internal temperature of chicken breast reaches 165°F (75°C).
Remove the chicken breasts and transfer to a paper towel-lined plate.
Serve with french fries, carrots, broccoli, and ranch dressing, if desired.
Enjoy!
Watch the recipe video here:
Hasselback Cheese Puff-Fried Chicken

Can you guess what ingredient makes this hasselback fried chicken so amazing? ? ✨FULL RECIPE: https://tasty.co/recipe/hasselback-cheese-puff-fried-chickenCheck out and shop our favorite holiday recipes HERE: http://bzfd.it/2o4Cvey

Posted by Tasty on Friday, December 15, 2017