Chipotle Inspired Guac
One of the many things I enjoy in life is a delicious, refreshing snack! This delicious guac! Inspired by Chipotle's wonderful recipe, this one matches up on so many levels! It's such a great recipe to have on lockdown for any party or event! Eat up and enjoy!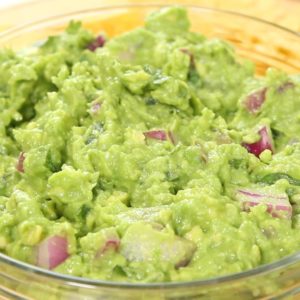 Ingredients
4 Ripe Avocados
4 tsp Lime juice
4 Tbsp Cilantro (chopped)
½ CUP Red onion (finely chopped)
1 Jalapeño, including seeds (finely chopped)
2¼ tsp kosher salt
Instructions
Choose the right avocado. It should feel squishy yet firm (like the palm of your hand), and be a nice dark green color on the outside.
Cut the avocado in half and then remove the pit (carefully!)
Scoop the avocados and place in a medium bowl.
Toss and coat with lime juice.
Add the salt and using a fork or potato masher, mash until a smooth consistency is achieved.
Fold in the remaining ingredients and mix well.
Adjust seasoning if necessary.
Enjoy!
Watch the recipe video here: