Quick Baked Chicken Parmesan
In this lighter version of chicken Parmesan I skip the pan-frying in oil and instead bake lightly-breaded chicken breasts in the oven, then top with sauce and cheese. My family's not big on lots of sauce and cheese, so I just use a little to flavor the dish. Feel free to add more if you like, but it's excellent as-is. Serve chicken over pasta with additional sauce.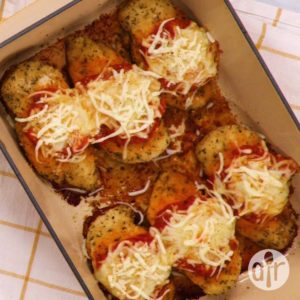 Ingredients
canola oil cooking spray
½ cup water
1 egg, beaten
1½ cups bread crumbs
6 tablespoons grated Parmesan cheese, divided
1 tablespoon dried oregano
1 teaspoon dried basil
½ teaspoon dried thyme
½ teaspoon garlic powder
6 skinless, boneless chicken breast halves
2 cups spaghetti sauce
1 cup shredded mozzarella cheese
Instructions
Preheat oven to 350 degrees F (175 degrees C). Spray a 9x13-inch baking dish with cooking spray.
Whisk water and egg together in a bowl until smooth. Combine bread crumbs, 2 tablespoons Parmesan cheese, oregano, basil, thyme, and garlic powder in a separate bowl.
Dip each chicken breast in egg mixture, allowing excess egg to drip back into bowl. Coat each chicken breast in bread crumb mixture, shaking off excess. Repeat dipping each coated chicken breast in the egg mixture and the bread crumb mixture for a double-coating and place in the prepared baking dish. Spray breaded chicken breasts with cooking spray.
Bake in the preheated oven for 40 minutes. Pour spaghetti sauce over each chicken breast and top each with mozzarella cheese and remaining Parmesan cheese. Continue baking until chicken is no longer pink in the center and the cheeses are melted, about 15 minutes more. An instant-read thermometer inserted into the center should read at least 165 degrees F (74 degrees C).
Watch the recipe video here: