Nut Goodie Ice Cream Bars
Chocolate, peanut butter AND ice cream!? We are actually in heaven with these bars.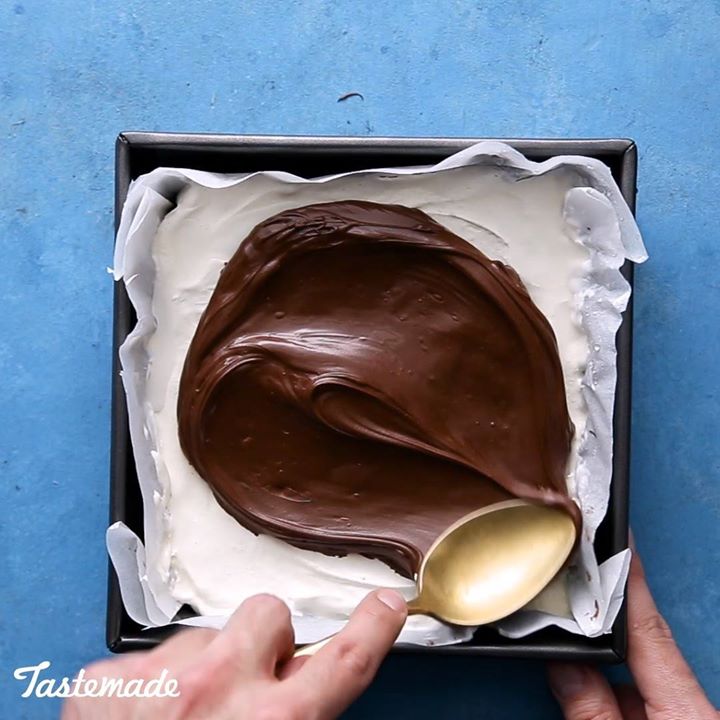 Ingredients
Brownie base layer:
2½ tablespoons salted butter, melted
1 cup granulated sugar
1 large egg plus 1 egg yolk
1 teaspoon vanilla extract
2 tablespoons plus 2 teaspoons vegetable oil
6 tablespoons dark cocoa powder
4 tablespoons all-purpose flour
1 teaspoon cornstarch
⅛ teaspoon salt
Pinch of baking soda
Chocolate layer:
12 ounces semisweet chocolate chips
½ cup creamy peanut butter
Sea salt
Maple fudge layer:
3 ounces cream cheese, softened
2½ cups powdered sugar
2 tablespoons peanut butter
¼ teaspoon maple extract
1½ cups roasted salted peanuts
Ice cream layer:
1 (8-ounce) container whipped topping
2½ cups vanilla ice cream, softened
Instructions
Preheat oven to 325 degrees. Line an 8 by 8-inch baking pan with parchment. Oil the parchment on the side that will be in contact with food.
For the brownie base:
In medium bowl, mix the butter and sugar until smooth. Whisk in the eggs, vanilla extract, vegetable oil and cocoa powder.
With a spatula, mix in flour, cornstarch, salt and baking soda until batter is smooth. Pour batter into the prepared pan. Bake 20 to 25 minutes or until moist crumbs stick to an inserted toothpick. Let cool completely.
For the chocolate layer:
Place the semisweet chocolate chips and peanut butter in a medium-size microwave safe bowl. Microwave for 1 minute. Stir until smooth.
Spread one-third of the chocolate evenly over the cooled brownie layer. Place in the fridge to cool for 20 minutes.
For the maple fudge layer:
In a medium bowl, mix together softened cream cheese, powdered sugar, maple extract and peanut butter until smooth. Spread evenly over the chocolate layer, and top with peanuts, patting down slightly. Place in the fridge to cool for 20 minutes.
For the ice cream layer:
With the back of a spoon, forcefully mix together the softened ice cream with the whipped topping. Place into a piping bag. Evenly pipe the ice cream mixture over the fudge layer. Use a spatula to smooth over the top. Place in the freezer until firm, 20 minutes.
For the final chocolate layer:
Warm the remaining chocolate mixture if it is no longer fluid. Pour over the ice cream layer, and spread out evenly with a spatula. Garnish with sea salt. Place in the freezer until frozen, 1 hour.
Flip bars out onto a cutting board (brownie side up), and cut into 8 equal-sized candy bars. Serve immediately, or cover with plastic wrap to keep in the freezer for up to 5 days.
Watch the recipe video here:
You can't make everyone happy. You aren't this ice cream bar.Taste for Yourself: taste.md/2GDXLMQ

Posted by Tastemade on Thursday, April 5, 2018