Favorite Banana Cream Pie
Homemade banana cream pie is my mom's specialty, and this dreamy dessert has a wonderful banana flavor. It looks so pretty, and it cuts easily, too. —Jodi Grable, Springfield, Missouri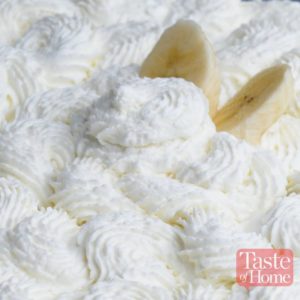 Ingredients
Pastry for single-crust pie (9 inches)
1 cup sugar
¼ cup cornstarch
½ teaspoon salt
3 cups 2% milk
2 large eggs, lightly beaten
3 tablespoons butter
1-1/2 teaspoons vanilla extract
2 large firm bananas
1 cup heavy whipping cream, whipped
Instructions
On a lightly floured surface, roll dough to a ⅛-in.-thick circle; transfer to a 9-in. pie plate. Trim to ½ in. beyond rim of plate; flute edge. Refrigerate 30 minutes. Preheat oven to 425°. Line crust with a double thickness of foil. Fill with pie weights, dried beans or uncooked rice. Bake on a lower oven rack until edges are golden brown, 20-25 minutes. Remove foil and weights; bake until bottom is golden brown, 3-6 minutes longer. Cool on a wire rack.
In a large saucepan, combine sugar, cornstarch, salt and milk until smooth. Cook and stir over medium-high heat until thickened and bubbly. Reduce heat; cook and stir 2 minutes longer. Remove from heat. Stir a small amount of hot filling into eggs; return all to pan. Bring to a gentle boil; cook and stir 2 minutes longer.
Remove from heat. Gently stir in butter and vanilla. Press plastic wrap onto surface of custard; refrigerate, covered, 30 minutes.
Spread half of the custard into crust. Slice bananas; arrange over filling. Pour remaining custard over bananas. Spread with whipped cream. Refrigerate 6 hours or overnight.
Watch the recipe video here: