Macaroni and Cheese Pancakes
Leftover macaroni and cheese just found a new home in sweet-and-savory pancakes. Make them for breakfast or dinner, and remember the addictive sweet heat of the hot sauce-maple syrup -- it's also great on waffles and fried chicken.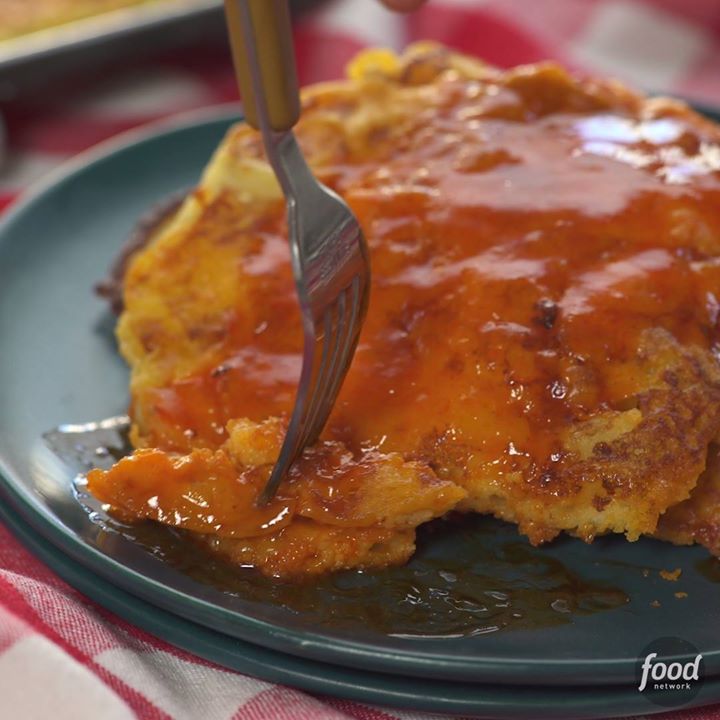 Ingredients
1 stick (8 tablespoons) unsalted butter, plus more for serving
⅓ cup pure maple syrup
¼ cup buffalo-style hot sauce, such as Frank's Red Hot
Kosher salt
2 cups prepared macaroni and cheese, cold or at room temperature
2½ cups prepared pancake batter
1½ cups shredded sharp Cheddar
Instructions
Melt 4 tablespoons of the butter in a small saucepan over medium heat. Turn off the heat and whisk in the maple syrup and hot sauce. Season with salt. Cover to keep warm.
Gently stir the macaroni and cheese into the pancake batter. Heat a large nonstick skillet over medium heat. Add 1 tablespoon of the butter and swirl to coat.
Scoop 3 pancakes into the pan, about ⅓ cup each. Use the back of a spoon to lightly spread out the batter, making sure that there is enough space around each pancake so they do not touch. Sprinkle 2 tablespoons of Cheddar on top of each pancake, using the back of a spoon to lightly press into the batter. Cook until there are a few bubbles around the edges of the pancakes and the undersides are lightly browned, about 3 minutes. Flip the pancakes and cook until the cheese is completely melted and lightly browned, about 2 minutes more.
Carefully wipe out the skillet and repeat the process with the remaining pancake batter and Cheddar, adding 1 tablespoon butter to the skillet for each new batch.
Serve the pancakes in stacks of 3 topped with the remaining butter and hot sauce-maple syrup mixture.
Watch the recipe video here: