Lemon Icebox Pie Flag
Wave your American flag and eat it too! This easy spin on the classic lemon icebox pie is perfect for your Fourth of July festivities!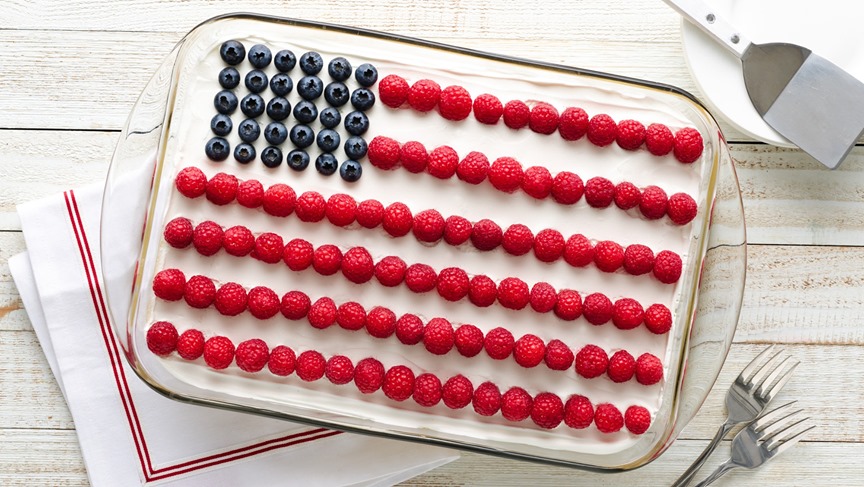 Ingredients
1 roll (16.5 oz) Pillsbury™ refrigerated sugar cookies
6 egg yolks
2 cans (14 oz each) sweetened condensed milk (not evaporated)
1 cup lemon juice
1container (8 oz) frozen whipped topping, thawed
⅓ cup blueberries, patted dry
2 cups raspberries, patted dry
Instructions
Heat oven to 350°F. Thoroughly grease or spray 13x9-inch (3-quart) baking dish; press cookie dough in even layer in bottom and 1½ inches up sides of dish. Bake 22 minutes. Cool 10 minutes.
Meanwhile, in large bowl, beat egg yolks with whisk. Add condensed milk; beat until combined. Add lemon juice; beat until thickened, about 2 minutes. Pour egg mixture in cookie crust; bake 20 to 25 minutes or until set on edges but slightly jiggly in center.
Cool 30 minutes at room temperature, then refrigerate until firm, at least 2 hours but no longer than 8 hours. Spread whipped topping over top. Arrange blueberries in top left corner to create blue field of stars section of flag. Make 6 red stripes with the raspberries. Carefully cover with plastic wrap; refrigerate at least 1 hour but no longer than 8 hours. Cut into 5 rows by 4 rows.
Watch the recipe video here: