Big Mac Onion Rings
The beloved flavours of the famous Big Mac - that ineffable sauce, both sweet and tangy, mixed with delicious beef and that curious yet deeply sexy American cheese. The only thing that it isn't is deep fried, but all that is going to change with this recipe - a big mac inside an onion ring. Game changer.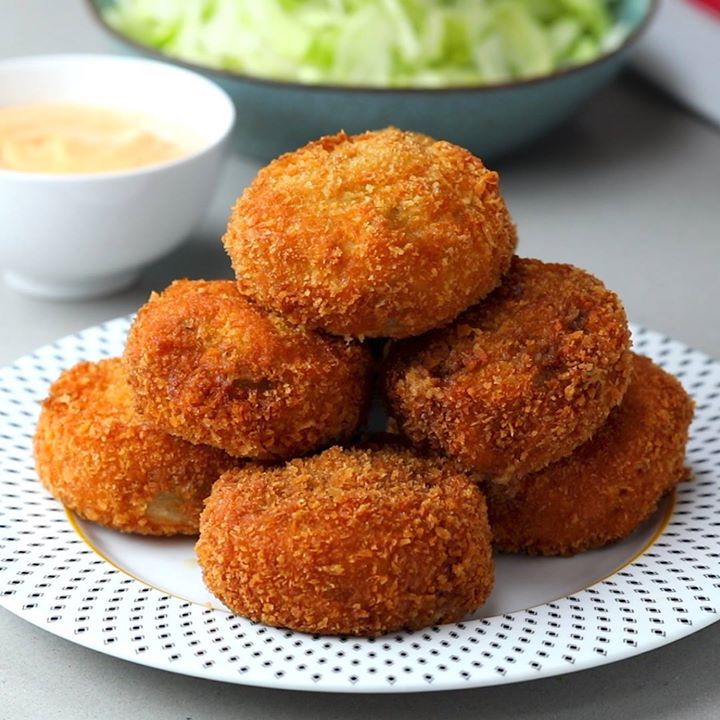 Ingredients
3 onions
1.1 lb beef
1 tsp salt
1 tsp pepper
1 tsp garlic powder
Slices of American cheese
Chopped pickles
300g mayo
2 tsp chopped pickles
2 tsp mild mustard
1 tsp vinegar
1 tsp sugar
1½ tsp onion powder
1½ tsp garlic powder
½ tsp smoked paprika
1 pinch white pepper
2 cups plain flour
3 eggs, beaten
2 cups panko breadcrumbs
Instructions
First cut the onions into three and separate the rings.
Add the mince to the bowl and thoroughly mix in the salt, pepper and garlic powder.
Press a small amount of the burger mix into an onion ring and top with a circle of cheese and sprinkle of chopped up gherkins.
Press more mince on top to seal in the cheese.
Dip each burger onion ring in the flour, then egg then panko. Re-dip in the egg and panko for an extra coat.
Whisk up all the ingredients for the big mac sauce and set aside.
Fry in 160°C oil for five minutes until crisp and cooked through.
Watch the recipe video here:
Big Mac Onion Rings

Posted by Twisted on Tuesday, April 10, 2018