Easy Banana Pudding Cake
My family always thinks this cake takes way more time and energy to fix then it actually does. Who am I to correct them?! Top with sliced bananas and keep refrigerated.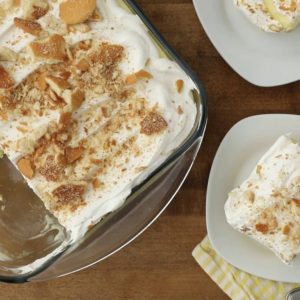 Ingredients
cooking spray
1 (15.25 ounce) package yellow cake mix
1 cup water
3 large eggs
⅓ cup vegetable oil
4 cups milk
2 (3.5 ounce) packages instant banana pudding mix
1 (8 ounce) container frozen whipped topping (such as Cool Whip®), thawed
20 vanilla wafers, crushed
Instructions
Preheat oven to 350 degrees F (175 degrees C). Spray a 9x13-inch baking dish with cooking spray.
Mix cake mix, water, eggs, and oil in a bowl until just moistened; pour cake batter into prepared baking dish.
Bake in the preheated oven until a toothpick inserted into the center comes out clean, 34 to 38 minutes. Cool in the baking dish for 2 to 3 minutes. Poke several holes into the cake using the handle of a wooden spoon. Be sure to poke all the way through to the bottom of the cake.
Stir milk and pudding mix together in another bowl until smooth. Let pudding rest until it begins to thicken slightly, but is not fully set, about 2 minutes. Pour pudding over cake and spread evenly, making sure to fill each hole completely. Chill cake in the refrigerator until cake is cooled and pudding is set, about 2 hours.
Spread whipped topping over cake and sprinkle with crushed vanilla wafers just before serving.
Watch the recipe video here: