Strawberry Box Brownie Cheesecake
Strawberry Box Brownie Cheesecake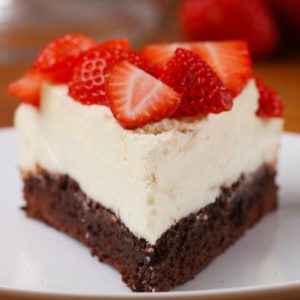 Ingredients
BROWNIE BASE
1 box brownie mix, prepared
CHEESECAKE FILLING
24 oz cream cheese (720 g)
1 cup sugar (200 g)
1 tablespoon vanilla extract
⅔ cup hot water (150 mL)
1 tablespoon powdered gelatin
CHEESECAKE TOPPING
1 ¼ cups double cream, whipped (300 mL)
1 cup strawberry, halved (200 g)
Instructions
Preheat the oven to 180°C (350°F).
Prepare the brownie mix, following instructions on the box.
Pour into a greased 9-inch (23 cm) spring form tin.
Bake in the oven for 20 minutes and leave to cool.
Prepare the cheesecake filling by whisking the cream cheese, sugar, and vanilla extract until smooth.
Scatter the gelatin over the hot water, mix together, and combine into the cheesecake filling.
Spread on top of the brownie base.
Chill for 4-6 hours, until set.
Spread the whipped cream on top.
Place strawberries on top.
Enjoy!
Watch the recipe video here: