Chocolate Raspberry Bundt Cake
Chocolate Raspberry Bundt Cake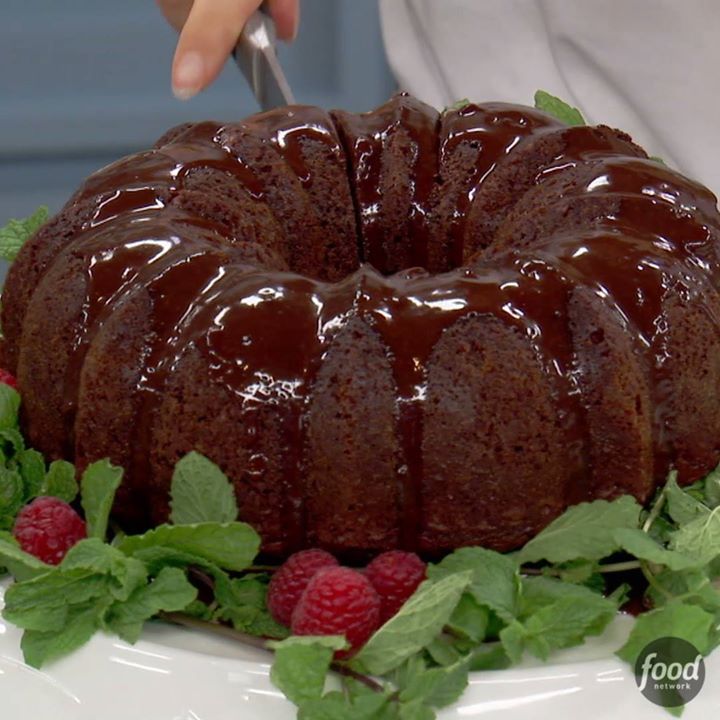 Ingredients
Cake:
Nonstick cooking spray, for the pan
¾ cup milk
⅓ cup seedless raspberry jam
4 tablespoons (1/2 stick) unsalted butter, melted
¼ cup raspberry liqueur, such as Chambord
3 large eggs
One 15.25-ounce box devil's food cake mix
½ cup fresh raspberries, for decorating
1 bunch fresh mint, for decorating
Ganache:
½ cup plus 2 tablespoons semisweet chocolate chips
1 tablespoon seedless raspberry jam
1 tablespoon raspberry liqueur, such as Chambord
½ cup heavy cream
Instructions
For the cake: Preheat the oven to 325 degrees F. Spray a bundt pan with nonstick cooking spray.
In a large mixing bowl, use a handheld electric mixer to whisk the milk, jam, melted butter, liqueur and eggs. Add the cake mix and beat on medium speed for about 1 minute.
Transfer the batter to the prepared pan and bake until a toothpick or cake tester comes out clean when inserted into the cake, about 35 minutes. Let cool in the pan for 15 minutes. Remove the cake from the pan and transfer to a wire rack to cool completely.
For the ganache: Put the chocolate, jam, and liqueur in a mixing bowl. Bring the cream to a low simmer in a small pan set over medium-high heat. Pour over the chocolate and let stand 10 minutes. Stir with a whisk until smooth. Let stand another 10 minutes.
Place the cake on a cake stand or serving dish and pour the ganache over it, letting it drip down the sides. Use the raspberries and mint to decorate it to look like a holiday wreath if desired.
Watch the recipe video here: