Chocolate Swirl Pie
Because normal pie crusts are boring! Put a twist and swirl your pie crust for fun presentation. Filled with a rich chocolate filling ready to be devoured with some ice cream.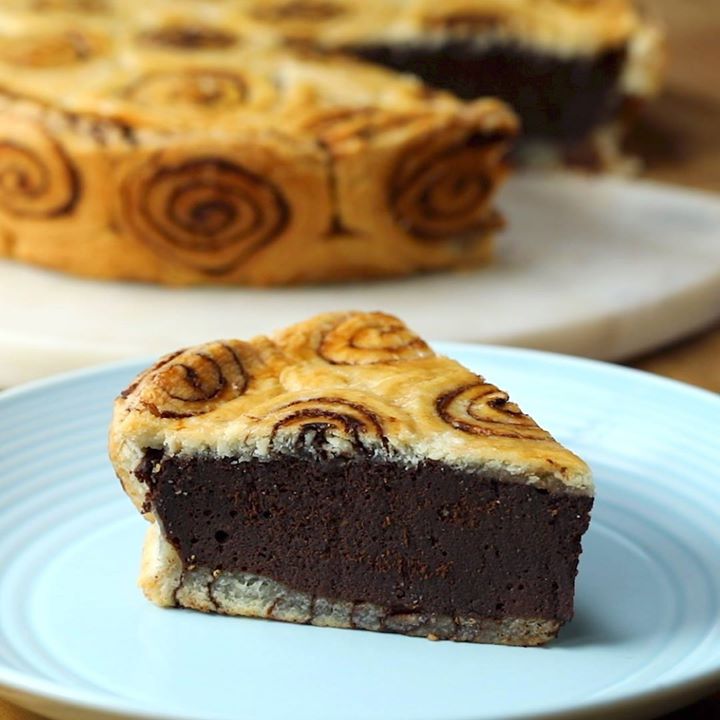 Ingredients
350g melted choc
150g melted butter
6 eggs
30g sugar
30g flour
1 tsp vanilla
2 refrigerated pie crusts
3 tbsp cocoa powde
3 tbsp cing sugar
2 tbsp Melted butter
Egg wash
Instructions
Preheat oven to 180ºC (350ºF).
Roll out one pie crust. Brush with melted butter and sift over cocoa mixed with icing sugar. Roll tightly into a log. Cut into ¼" rounds. Repeat with second pie crust.
Press one logs worth into the bottom of an 8" cake tin and press too adhere. Brush with egg wash and set aside.
In bowl, mix together melted chocolate and butter, set aside. In another large bowl, whisk together eggs, sugar, flour, and vanilla. Pour into pie base.
Place remaining swirl rounds in a circle in-between two pieces of parchment paper. Roll out to ¼" thick and place on top of chocolate filling. Press edges to seal and cut any excess pie crust.
Brush the top evenly with egg wash. Bake for 30-40 minutes until crust is golden brown.
Enjoy!
Watch the recipe video here:
Chocolate Swirl Pie

Posted by Twisted on Monday, March 26, 2018