Cereal-Stuffed French Toast
Cereal-Crusted French Toast... and it's stuffed with berries and cream cheese! ??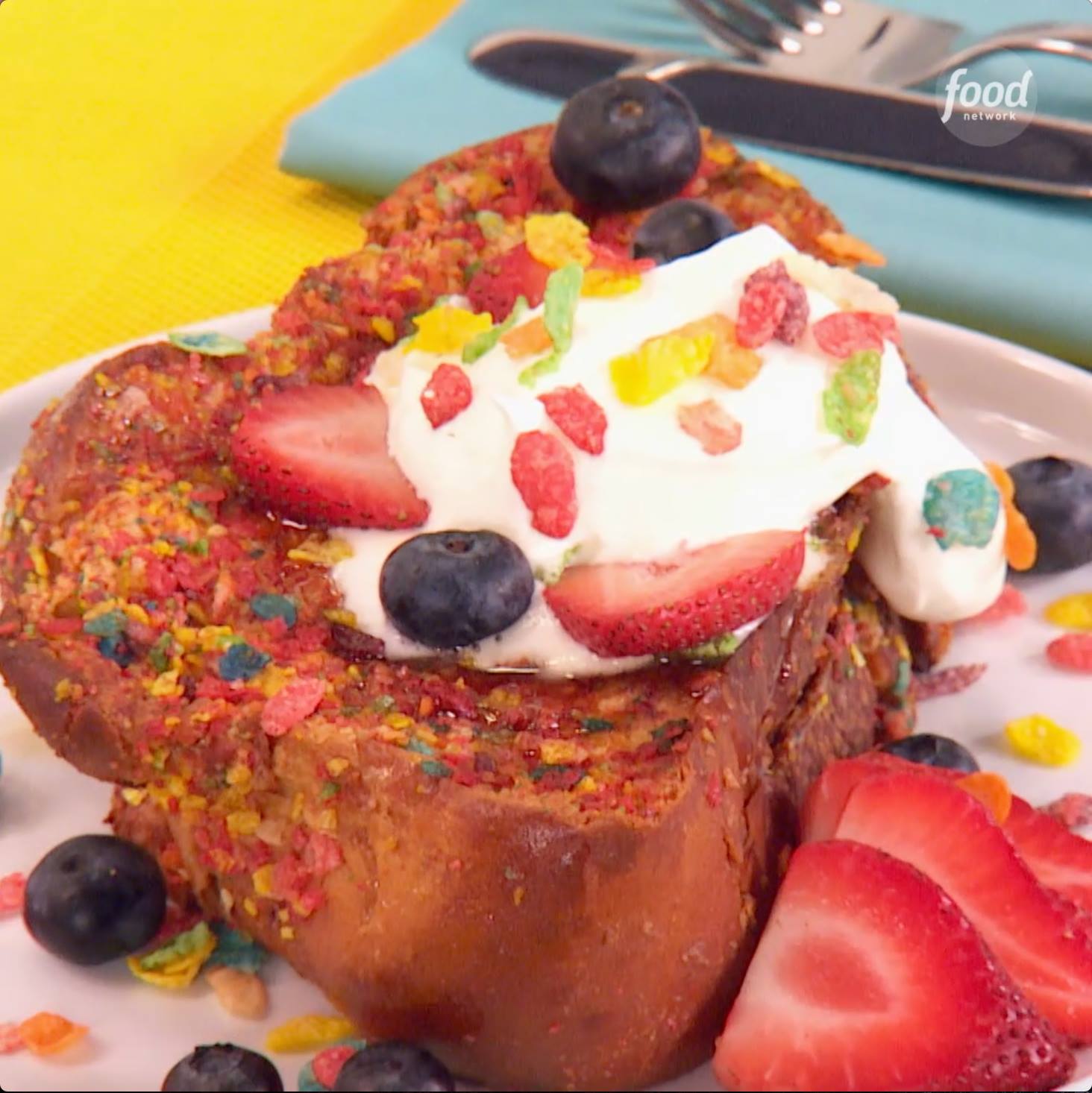 Ingredients
1 loaf challah bread or any tall braided bread
2½ cups tropical or fruity cereal, such as Fruity Pebbles, plus more for garnish
8 ounces cream cheese, softened
2 tablespoons chopped strawberries, plus more for garnish
2 tablespoons chopped blueberries, plus more for garnish
1 cup half-and-half
1½ teaspoons pure vanilla extract
¼ teaspoon ground cinnamon
2 large eggs, beaten
4 tablespoons salted butter
Whipped cream, for serving
Maple syrup, for serving
Instructions
Cut four 2-inch-thick slices of bread from the center of the loaf (save the rest for another use). Using a paring knife, make a small cut through the bottom of each slice of bread going horizontally to create a pocket for the filling.
Pour the cereal into a large resealable plastic bag and seal. Using a rolling pin, crush the cereal into pieces; stop before it gets too fine. Pour 2 tablespoons of the crushed cereal into a bowl. Add the cream cheese and chopped strawberries and blueberries and mix.
In a shallow baking dish, whisk together the half-and-half, vanilla, cinnamon and eggs.
In a large skillet over medium-low heat, melt 1 tablespoon of the butter.
Using a spoon, stuff a slice of bread with about 2 tablespoons of the filling. Close the opening and dip into the egg mixture to coat (about 5 seconds on each side). Transfer the bread to the bag filled with cereal and carefully coat each side.
Cook the bread in the skillet until toasted on both sides, being careful not to burn it, 3 to 4 minutes per side. Transfer to a serving plate.
Stuff, dip, coat and cook the remaining bread slices one at a time, adding an additional tablespoon of butter to the skillet when cooking each batch (see Cook's Note).
Serve with whipped cream or maple syrup and garnish with berries and more cereal.
Watch the recipe video here: