Rhubarb Custard Bars
Once I tried these rich, gooey bars, I just had to have the recipe so I could make them for my family and friends. The shortbread-like crust and rhubarb and custard layers inspire people to find rhubarb they can use to fix a batch for themselves. —Shari Roach, South Milwaukee, Wisconsin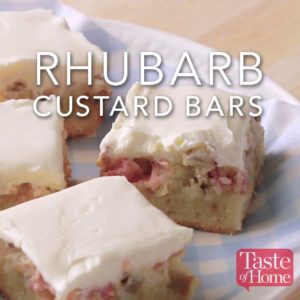 Ingredients
2 cups all-purpose flour
¼ cup sugar
1 cup cold butter
FILLING:
2 cups sugar
7 tablespoons all-purpose flour
1 cup heavy whipping cream
3 large eggs, beaten
5 cups finely chopped fresh or frozen rhubarb, thawed and drained
TOPPING:
6 ounces cream cheese, softened
½ cup sugar
½ teaspoon vanilla extract
1 cup heavy whipping cream, whipped
Instructions
In a bowl, combine the flour and sugar; cut in butter until the mixture resembles coarse crumbs. Press into a greased 13x9-in. baking pan. Bake at 350° for 10 minutes.
Meanwhile, for filling, combine sugar and flour in a bowl. Whisk in cream and eggs. Stir in the rhubarb. Pour over crust. Bake at 350° until custard is set, 40-45 minutes. Cool.
For topping, beat cream cheese, sugar and vanilla until smooth; fold in whipped cream. Spread over top. Cover and chill. Cut into bars. Store in the refrigerator.
Watch the recipe video here:
Bring on spring with these rich & gooey rhubarb bars! Get the recipe for these Rhubarb Custard Bars: https://trib.al/6hZyr9X

Posted by Taste of Home on Friday, March 1, 2019