Fresh Strawberry Sheet Cake
This simple, fresh strawberry cake is the perfect springtime dessert. Besides being wonderfully easy to slice and serve for a crowd, sheet cakes (like this pink beauty) are great for entertaining because they require no special cake frosting skills to look impressive.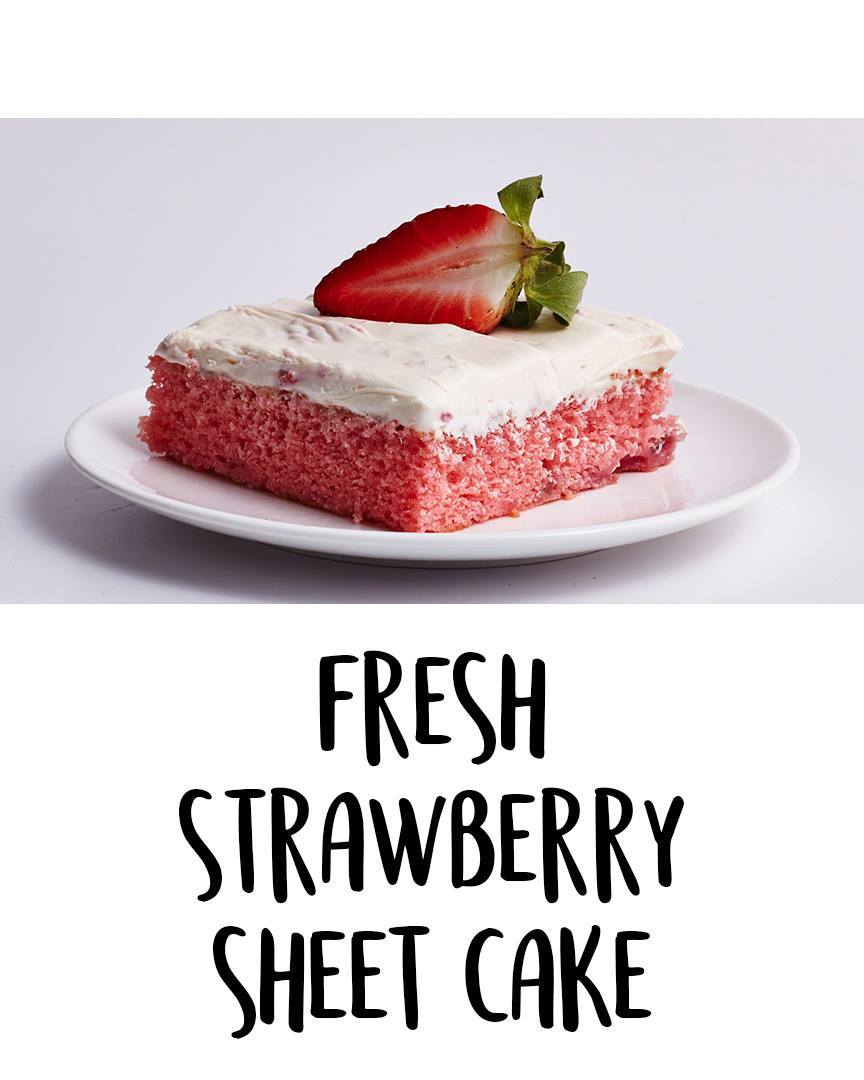 Ingredients
1¼ cups (10 oz.) unsalted butter, softened
2½ cups granulated sugar
5 large eggs
1 tablespoon fresh lemon juice (from 1 lemon)
1½ teaspoons vanilla extract
3 cups (about 12¾ oz.) all-purpose flour
1 (3-oz.) pkg. strawberry-flavored gelatin
1 teaspoon baking soda
1 teaspoon table salt
1¼ cups whole buttermilk
1½ cups diced fresh strawberries, divided
2 (12-oz.) containers ready-to-spread vanilla frosting (such as Betty Crocker)
10 Fresh strawberries, halved
Instructions
Preheat oven to 350°F. Line a half-size (18- x 13- x 1-inch) rimmed baking sheet with parchment paper; lightly grease parchment with cooking spray.
Beat butter in a large bowl with an electric mixer on medium speed until creamy. With mixer running, gradually add sugar, and beat until light and fluffy, about 3 minutes. Add eggs, 1 at a time, beating until well combined after each addition. Beat in lemon juice and vanilla.
Stir together flour, gelatin, baking soda, and salt in a separate bowl. Add flour mixture and buttermilk alternately to butter mixture in 5 additions, beginning and ending with flour mixture, beating on low speed just until blended after each addition. Stir in 1 cup chopped strawberries. Spread mixture in prepared baking sheet. Bake in preheated oven until a wooden pick inserted in center comes out clean, about 30 minutes.
Cool cake completely on baking sheet on a wire rack, about 1 hour. Finely chop remaining ½ cup diced strawberries and stir into vanilla frosting. Spread cooled cake with frosting. Refrigerate at least 1 hour and up to overnight. Garnish each piece with halved strawberries.
Watch the recipe video here:
This fresh, flavorful cake is perfect for #Easter—or any spring day. GET THE RECIPE: https://trib.al/cDigSEl (via Well Done)

Posted by Allrecipes on Monday, April 8, 2019