Bacon-wrapped Jalapeño Popper Dogs
Bacon-wrapped Jalapeño Popper Dogs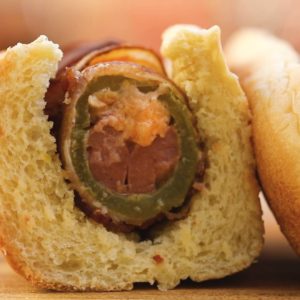 Ingredients
½ cup cream cheese, room temperature (115 g)
1 cup shredded cheddar cheese (100 g)
1 teaspoon garlic powder
¼ teaspoon ground pepper
4 large jalapeñoes
¼ cup brown sugar (55 g)
4 beef hot dogs
8 strips bacon
4 hot dog buns
Instructions
Combine filling ingredients in a medium bowl, and mix thoroughly. Refrigerate at least 15 minutes.
Cut the ends off the jalapeños, slice in half, and remove the seeds and white flesh from the interior.
Butterfly the hot dogs.
Stuff them with a few spoonfuls of the filling.
Place one jalapeño half over each end of the hot dog, fitting the dogs snugly inside.
Use two strips of bacon to wrap each jalapeño dog. Secure the bacon at each end with a toothpick.
Grill the dogs over medium indirect heat until the bacon is crispy, about 10 minutes, turning halfway through. If you don't have a grill, you can bake them in the oven at 400°F (200°C) for 15-20 minutes.
Remove the toothpicks and serve in buns with your desired toppings.
Enjoy!
Watch the recipe video here:
Spice up your day with these bacon-wrapped jalapeño popper hotdogs! ?FULL RECIPE: https://tasty.co/recipe/bacon-wrapped-jalapeno-popper-dogs

Posted by Tasty on Monday, April 8, 2019