Omelet With Bacon, Mushrooms, and Ricotta
Don't sweat rolling this into a perfect omelet; just top the cooked eggs with mushrooms and ricotta, and fold like a taco.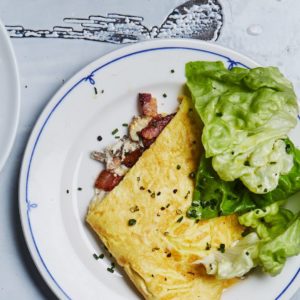 Ingredients
Omelet
3 slices thick-cut bacon
4 ounces button mushrooms
Kosher salt, freshly ground pepper
4 ounces fresh ricotta or cream cheese (about ½ cup)
¼ ounce Parmesan, finely grated (about ¼ cup)
6 large eggs
Salad
2 tablespoons olive oil
2 tablespoons white wine vinegar
1 teaspoon Dijon or other mustard
2 heads of Boston or Bibb lettuce, leaves separated
Handful of chopped chives
Instructions
Omelet
Cut bacon crosswise into ½"-wide pieces. Cook in a large nonstick skillet over medium, stirring and turning occasionally, until starting to brown and crisp but not all of the fat is rendered, 6–8 minutes. Transfer to a small plate or bowl with a slotted spoon.
While the bacon is cooking, finely chop the mushrooms.
Add mushrooms to skillet with bacon drippings, season with salt and pepper, and increase heat to medium-high. Cook, tossing often, until browned and any liquid from mushrooms has cooked off, about 5 minutes. Use a slotted spoon to transfer to a small bowl; let skillet cool slightly. Add ricotta and Parmesan to mushrooms and stir well to combine; season with salt and pepper.
Whisk eggs in a medium bowl until very smooth and a little frothy, about 1 minute; season with salt and pepper. Cook eggs in reserved skillet over medium, stirring constantly and making sure to scrape up eggs from bottom and around edge of pan, until large folded curds form. Shake pan to distribute uncooked eggs over surface and spoon mushroom mixture slightly off center. Top with bacon and cook until bottom of omelet takes on a light golden-brown color but surface is still slightly wet. Fold one side of omelet over filling (like a taco); slide omelet onto a cutting board or large plate.
Salad and Assembly
Whisk oil, vinegar, and mustard in a large bowl to combine; season with salt and pepper. Add lettuce and half of chives and toss to coat.
Top omelet with remaining chives cut in half and serve with salad.
Watch the recipe video here: