Parks & Rec Treat 'Yo Self Cinnamon Roll Crêpe Cake
Treat yo' self like Tom and Donna with this gloriously decadent crêpe cake, and watch Parks & Rec on Hulu during cooling times! #ItsAllOnHulu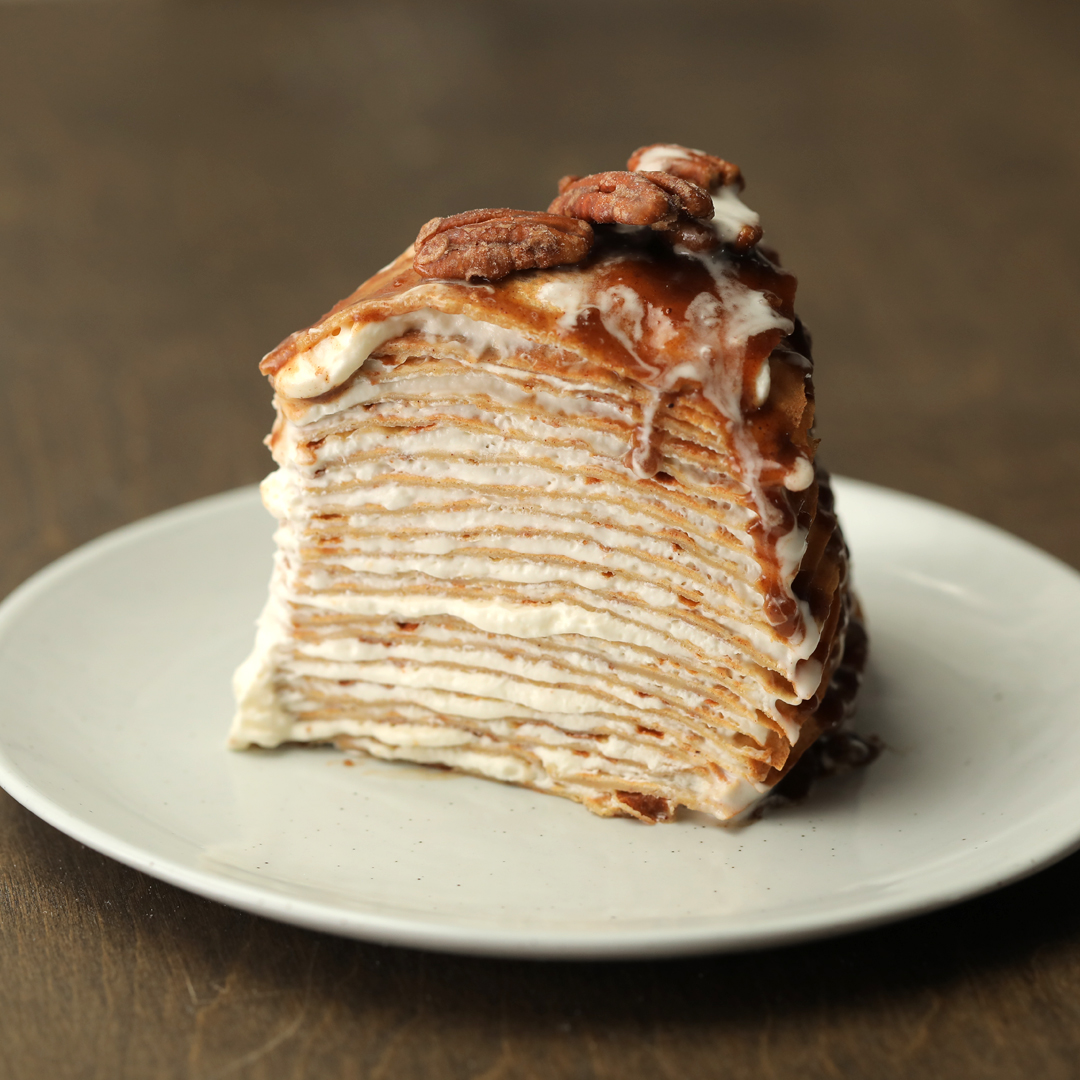 Ingredients
Batter
* 2 ¼ cups all-purpose flour
* 1 ½ teaspoons cinnamon
* 1 teaspoon salt
* ¾ cup brown sugar
* 5 eggs
* 1 ½ cups milk
* 1 ½ cups water
* 4 ½ tablespoons butter, melted
Filling
* 10 oz cream cheese, softened
* 1 ¼ cups powdered sugar
* 1 ½ teaspoons vanilla extract
* 1 teaspoon salt
* 2 tablespoons milk
* 4 cups whipped cream (made from 2 ½ cups heavy cream)
Topping
* 2 tablespoons butter
* ½ cup brown sugar
* 1 teaspoon cinnamon
* 1 tablespoon heavy cream
* 1 cup candied pecans
* ¼ cup reserved filling
* 2-3 tablespoons milk
Instructions
Place flour, cinnamon and salt in a large bowl. Sift in the brown sugar. Whisk to combine.
In another bowl, whisk together eggs, milk, water, and melted butter. Pour wet
ingredients into the dry, whisk to fully combine and remove all big lumps. Batter will still have tiny lumps from butter, this is okay.
Heat a 8-inch nonstick skillet over medium-low heat. Pour in a scant ¼ cup amount of batter. Tilt pan in a circular motion, so that the batter coats the pan in an even circle. Cook for 1 minute. Flip and cook other side for 30 seconds. Remove from pan. Repeat with the rest of the batter. Set aside crepes to cool.
Filling: Beat cream cheese and powdered sugar together using a hand mixer. Once combined, add in vanilla, salt and milk. Beat until smooth, then add in whipped cream. Continue to beat until combined and uniform.
Place the first crepe on a cake stand. Spread a layer of filling on to the crepe, then top with another crepe. Repeat until all the crepes have been used up. Reserve a ¼ cup of filling. Refrigerate cake for at least 4 hours or overnight.
In a small pot, heat butter, brown sugar, and cinnamon. Once bubbling and syrupy, stir in the heavy cream. Remove from heat.
Whisk reserved filling with 2 tablespoons of milk. You should be able to drizzle this, but if it is too thick, add another 1 tablespoon of milk.
Drizzle cinnamon sugar syrup over crepe cake. Pile candied pecans on top and drizzle with more syrup. Drizzle with thinned filling drizzle. Slice and serve.
Watch the recipe video here:
Treat yo' self like Tom and Donna with this gloriously decadent crêpe cake, and watch Parks & Rec on Hulu during cooling times! #ItsAllOnHulu

Posted by Tasty on Saturday, July 28, 2018