Blueberry Rolls With Cream Cheese Drizzle
Pastries are some of my favorite foods to make. This recipe for Blueberry Rolls with a cream cheese drizzle on top is just so delicious. They are so easy to bake and take you less than 30 minutes of total time. Around 15 minutes to prep and 15 minutes to get all warm and tasty. Your entire family will love these.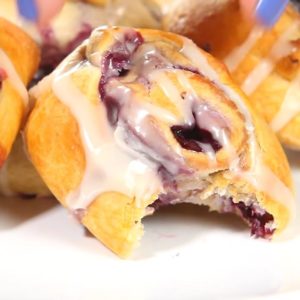 Ingredients
Pastry:
1 package frozen puff pastry (2 sheets), thawed
1 container blueberry cream cheese (room temperature so it spreads easy)
1 package of fresh or frozen blueberries
1 egg
1 Tbs Water
Sugar
Drizzle:
1 Cup Powdered Sugar
1 Tbs Milk
1 Tsp Vanilla Extract
Instructions
Lay out your sheet of pastry dough on a cookie sheet
Spread Blueberry Cream Cheese over dough
Place Blueberries on cream cheese
Roll it up and cut into sections
Bake at 400F for 15 minutes
While rolls are baking, make glaze mixture and pour on top when out of the oven.
Watch the recipe video here: