Cheesy Spinach Artichoke Bagels
You'll never top your bagel another way again.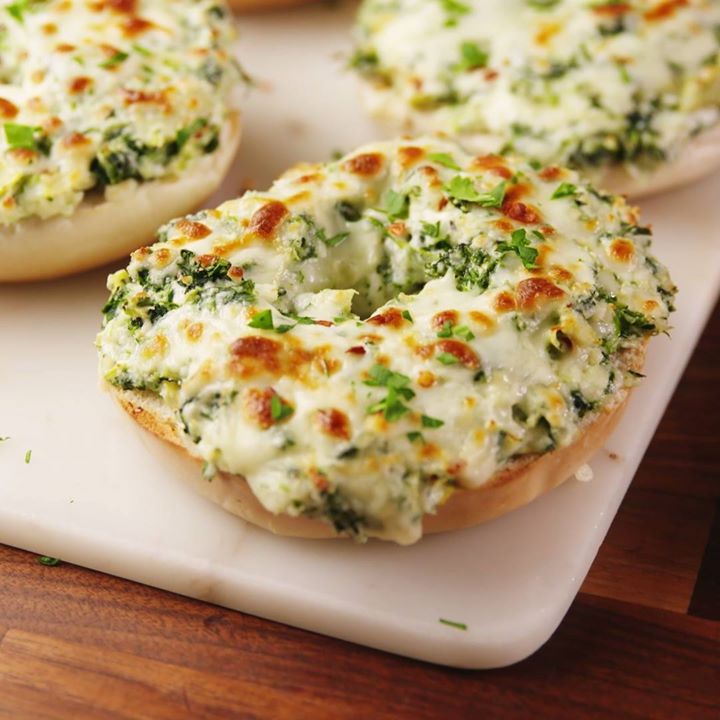 Ingredients
8 oz. cream cheese, softened
½ c. finely chopped artichoke hearts
½ c. finely chopped spinach
1 c. shredded mozzarella, divided
½ c. freshly grated Parmesan
1 Garlic clove, minced
½ tsp. red pepper flakes, plus more for garnish
kosher salt
Freshly ground black pepper
2 bagels, halved
1 tbsp. chopped parsley
Instructions
Preheat oven to 350° and line a medium cooking sheet with parchment paper. In a large bowl, combine cream cheese, artichoke hearts, spinach, ⅔ cup mozzarella, parmesan, garlic and red pepper flakes. Season with salt and pepper and stir to combine.
Place bagels cut side up on baking sheet and spread each with spinach and artichoke mixture. Top with remaining mozzarella. Bake until bagels are warmed through and cheese is melty, 10 to 12 minutes. Broil if desired.
Garnish with parsley and more red pepper flakes. Serve.
Watch the recipe video here: