Ham & Cheese Tortellini
Ham & cheese, please!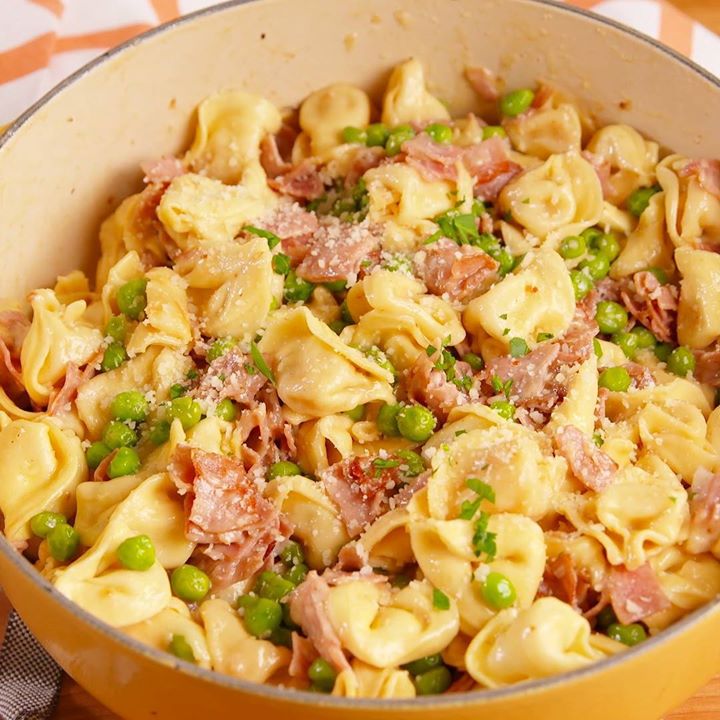 Ingredients
1 tbsp. extra-virgin olive oil
1 shallot, minced
3 cloves garlic, minced
½ lb. deli ham, chopped
Freshly ground black pepper
1½ lb. cheese tortellini
2 c. frozen peas
¾ c. low-sodium chicken broth
⅓ c. heavy cream
1 c. shredded swiss
½ c. freshly grated Parmesan
Freshly chopped parsley, for garnish
Instructions
In a large skillet over medium-high heat, heat oil. Add shallot and garlic and cook until soft, 3 minutes. Add ham and cook until crispy, stirring occasionally, 5 minutes. Season with pepper. Add tortellini and frozen peas and stir until coated, then pour over chicken broth. Simmer until tortellini are al dente, 6 minutes.
Add heavy cream, Swiss, and Parmesan and stir until creamy.
Garnish with parsley and serve.
Watch the recipe video here: