Spiralized Summer Roll Bowls with Hoisin Peanut Sauce
These quick Spiralized Summer Roll Bowls made with spiralized carrots and cucumbers were inspired by my shrimp summer rolls. I wanted to take those yummy rolls (which can be a bit more time consuming) and turn them into a super-quick meal, less than 10 minutes!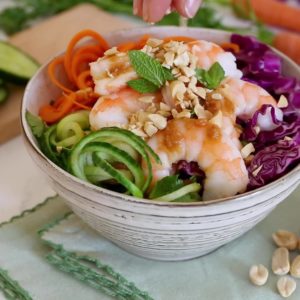 Ingredients
FOR THE HOISIN PEANUT SAUCE:
2 tbsp creamy peanut butter
2 teaspoons reduced-sodium soy sauce*
1 tablespoons hoisin sauce*
1 teaspoons sriracha
½ teaspoon grated ginger
4 tablespoons warm water, to thin
FOR THE BOWLS:
24 jumbo peeled and cooked shrimp
2 large English cucumbers
1 thick carrot, I used 8 oz
1 cup shredded red cabbage
2 tbsp cilantro leaves
12 basil leaves
12 mint leaves
2 tbsp chopped peanuts
Instructions
Mix all the sauce ingredients in a small bowl and refrigerate until ready to use.
Spiralize the cucumbers and carrots, then cut into 6-inch lengths. Divide the cucumbers, carrot, red cabbage between 4 bowls. Top each with 6 shrimp, 2 tbsp peanut dressing, fresh herbs and chopped peanuts.
Watch the recipe video here: