Layered Salad
Salad never looked so good! (Via The Pioneer Woman - Ree Drummond)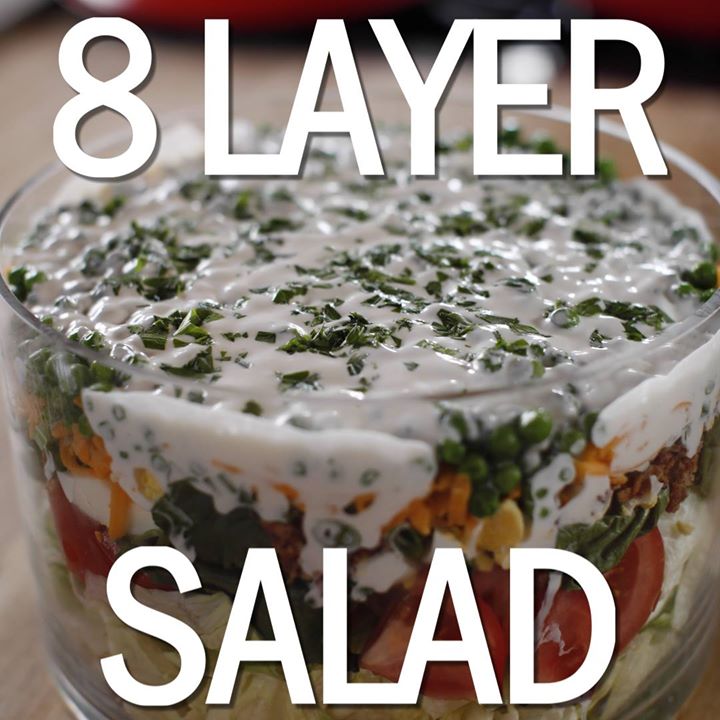 Ingredients
Salad:
2 heads iceberg lettuce, chopped
4 tomatoes, cut into wedges
8 ounces baby spinach
8 Perfect Hard Boiled Eggs, recipe follows, chopped
Salt and freshly ground black pepper
1 pound bacon, cooked and chopped
1 bunch green onions, thinly sliced
8 ounces grated sharp Cheddar
One 10-ounce bag frozen peas, partially thawed
Dressing:
½ cup mayonnaise
½ cup sour cream
1½ teaspoons sugar
2 tablespoons chopped fresh dill
2 tablespoons chopped fresh parsley
Perfect Hard Boiled Eggs:
Instructions
For the salad:
In a clear glass bowl, layer the salad ingredients in the order they appear above, concentrating the ingredients around the perimeter of the bowl and filling in any gaps in the center with lettuce as needed. Start with a good layer of iceberg on the bottom, followed by the tomato wedges, spinach and Perfect Hard Boiled Eggs. Sprinkle the egg layer generously with salt and pepper. Layer on the bacon, green onions and Cheddar, and end with the peas.
For the dressing:
Combine the mayonnaise, sour cream and sugar in a small bowl and mix well.
Pour the dressing over the top of the peas and spread evenly, bringing the dressing all the way out to the edges of the bowl. Sprinkle with the dill and parsley. Cover and refrigerate until serving.
Perfect Hard Boiled Eggs:
Place the eggs in a saucepan, cover with water and bring to a boil. Turn off the heat and allow the eggs to sit in the water for 20 minutes. Drain off the water and add ice to the pan on top of the eggs. Set aside to chill.
Watch the recipe video here:
Salad never looked so good! (Via The Pioneer Woman – Ree Drummond)Save the recipe: https://foodtv.com/2S05j5K.

Posted by Food Network on Sunday, April 1, 2018