Dorito Taco Salad
Obviously Doritos make the best taco salad topping. How did we not think of it sooner?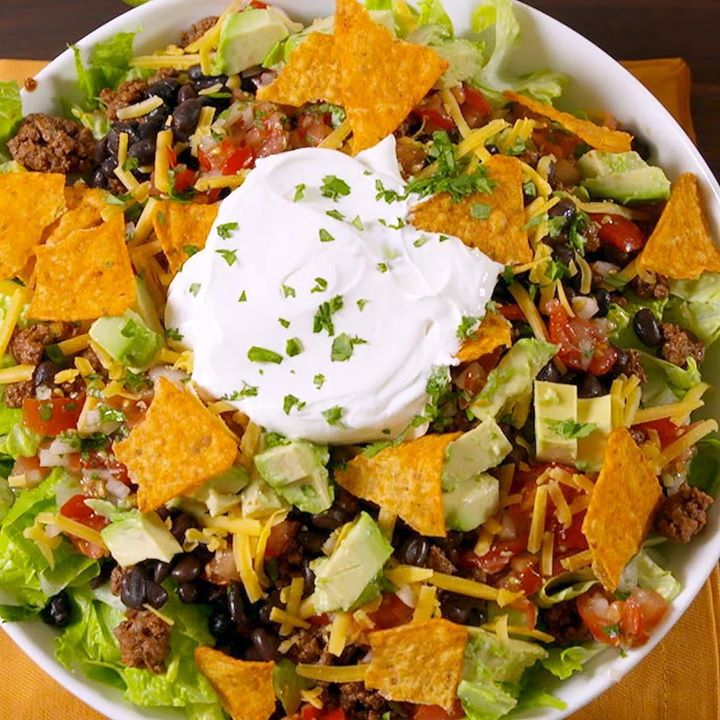 Ingredients
1 lb. ground beef
kosher salt
Freshly ground black pepper
2 tsp. chili powder
1 tsp. paprika
1 tsp. cumin
2 tbsp. tomato paste
2 heads romaine lettuce, chopped
1 cherry tomatoes, halved
1 can black beans, drained and rinsed
1 c. shredded Cheddar cheese
1 avocado, diced
1 c. Pico de Gallo
¼ c. Chopped cilantro
sour cream
Lime wedges, for serving
Instructions
Heat a large cast iron skillet over medium-high heat. Add the beef and break up the meat into small pieces with a wooden spoon. Cook, stirring occasionally, until browned all over and cooked through, about 5-7 minutes. Drain fat.
Stir cumin and chili powder into the meat. Season with salt and pepper to taste. Add tomato paste and about 2 tablespoons of water. Cook until the water cooks off and the flavors have melded, about 2 minutes more. Turn off heat and set aside.
Assemble salad: Toss chopped lettuce, cooked ground beef, cherry tomatoes, black beans, cheddar cheese, avocado, cilantro and pico de gallo together in a large serving bowl. Serve with sour cream and lime wedges.
Watch the recipe video here: